As seen in this closely related ring:
The early 19th century had a new definition of loving sentimentality, with a focus on the gem and its meaning, as well as an interpersonal connection through moving hairwork inside the jewel, rather than prominently display it.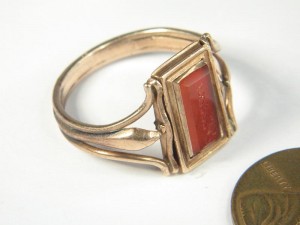 Virtue as a display of affection for a loved one, regardless of the relationship, is the singular element that relates to longevity, devotion and trust. With the use of 'Pietas', this ring establishes its classical roots, as well as infusing this thought upon modern fashion. The carnelian, denoting 'friendship' and 'contentment' is the new representation of sentimentality for the early 19th century, rather than the allegorical romantic depictions of the post c.1765 Neoclasscial era.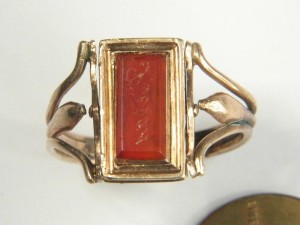 Here, the 'magical properties' of gems speak for the symbolic nature of what the personal sentiment was alluding to. This is something which was popularised in the early 19th century and has carried through to today. Why this is important is because it transcends religious and cultural boundaries with different interpretations of gems and stones, without making an overt statement about its nature. A gem which looks aesthetically pleasing doesn't necessarily have to equal a token of love or grief, but if the wearer's intent is to make it so, then it can.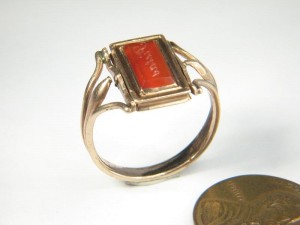 For the stages of mourning, the most important factor in gems are their colour. For example, turquoise was often used as a during the half half morning stage, post Third Stage (or Ordinary stage) as a mourning material, with its influx of colour. This stage was introduced after twenty-one months, involving the omission of crape, inclusion of black silk trimmed with jet, black ribbon and embroidery or lace were permitted. Post 1860, soft mauves, violet, pansy, lilac, scabious and heliotrope were acceptable in half mourning. This period lasted three months. The English Woman's Domestic Magazine stated that 'many widows never put on their colours again' and this was quite a statement for the identity of the woman, which was held under the veil of mourning and family symbolism for the rest of her life.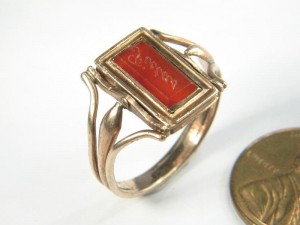 Post the half mourning period, jewels that denote mourning and have the colours of the gems can be identified. This is helpful for the modern collector who may have a jewel with the 'In Memory Of' sentiment and jewels with garnets, turquoise or other coloured gem.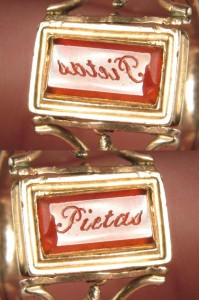 However, in the case of this ring, we see the popular love token in the swivel and the combination of hairwork. 'Pietas' is the connection of two through virtue and loyalty and the union of their woven hair is an eternal symbol that cannot be broken.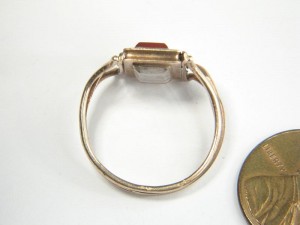 With the three-tiered shoulder and shank design, we see the early 19th century experimentation of style to accommodate locket, swivel and unusual shapes upon the bezel. This particular design stems from the 18th century fleur-de-lis motifs along the shoulders, but in a far more stylised context.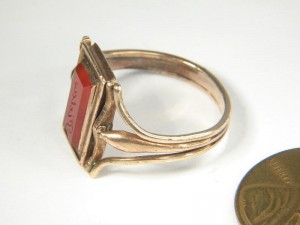 For a time that was known for its excesses in the Regency era, this ring shows a personal statement of love between two people and while both sides reflect an element of projecting love, compared to its previous generation, it is quite modest.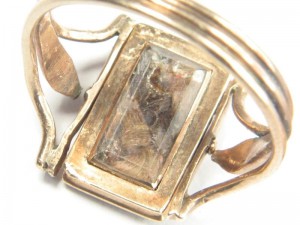 Further Reading
> Black Enamel Swivel Ring, 1798 "Sacred to Friendship"
> Anna Schrarn, 1881 Locket Ring
> Discovering a 19th Century Swivel Ring
> Elegant 19th Century Envelope Ring
> Space Oddity; Understanding a Hinged / Locket Sentimental Ring with Hair
> Ring Design in the Early 19th Century: Oval and Rectangle
> Ring Design in the Early 19th Century: Open Shank
> Spotlight On: c.1800 Twist Ring
> Hold the Shank
> Sentimental Locket and Swivel Ring
English, solid 15 carat gold ring. Ribbed band, split shoulders and a swivelling double-sided head – set to one side with a polished agate panel engraved 'Pietas' in reverse, and to the other with a bevel glazed locket compartment containing a woven hair memento.
The ring dates to around 1800/10 but it is not marked. Its dimensions are; head 14 x 8 mm (1 inch = 25.4 mm), with the ring size being a leading edge P or 8 US. The ring weighs approx. 3.9 grams.