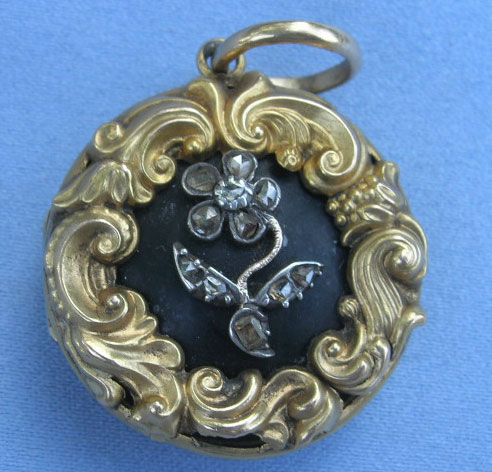 By 1834, all the elements of the Gothic Revival had entered mainstream fashion and was directly responsible for jewels like this. For more on the Gothic Revival and its impact, please read the following articles:
> Gothic Revival in Culture and Jewellery: Part 1, c.1740-c.1850
> Gothic Revival in Culture and Jewellery: Part 2, c.1850-c.1900
> Gothic Revival in Culture and Jewellery: Part 3, Breaking Perceptions
The simplification of design in mourning jewels took on a form that would define the rest of the 19th century. One of the primary identifiers in recognising a mourning jewel is through the abundant use of black enamel. Black enamel, while common as the primary element in mourning jewels, often worked in conjunction with other symbols (memento mori in the 17th and 18th centuries, allegorical romantic symbols in the late 18th and early 19th centuries), but now it had begun to over take any other symbolism and truly take over the jewel.
With this locket, we have the heavy, embellished Rococo-inspired acanthus designed border of the jewel, quite typical of the Gothic Revival period. On the interior, set in high relief is the forget-me-not with diamonds set in the design.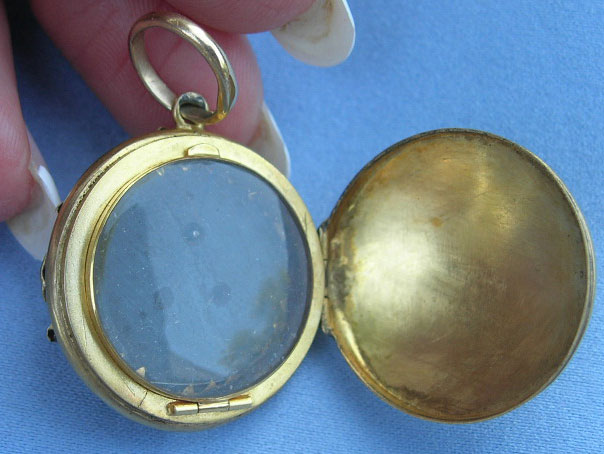 To discover more about the reason for this jewel, the dedication tells an even greater tale. William George Monckton-Arundell, 5th Viscount Galway (1782–1834). Jewels created, or dedicated to, higher classes and the aristocracy cannot be understated for their statement about fashion for their time. The sentimental nature of this jewel can also be seen in its construction as a functional locket. Often, the jewel was created with hairwork placed inside the dedication area, but this has a hinge for the personal placement of hair (no doubt a reason why Viscount Galway's hair has been removed). Either way, this is a shift towards  the jewel becoming a more personal object than it had previously been. Smaller sizes, the ability for a jewel to be worn under the clothes and personal customisation were all becoming popular in lockets and pendants at the mid 19th century approached. Looking back to the Gothic Revival and its imposition of a 'traditional' value system upon society, it's a locket like this which balances opulence and high quality, with a more restricted fashion style.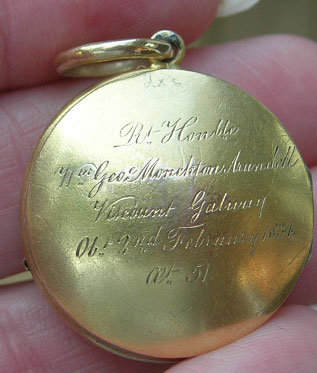 As lockets and pendants began to grow in size after c.1854, this particular style would be common, with the etched dedication in the reverse.  For more, please view the following articles:
> Baltimore 19th Century Bracelet
> Holding on to a 19th Century Brooch
> Gothic Revival and Its Influence in a Brooch
> Researching a Black and White Enamel 19th Century Brooch
> Adapting Styles in Mourning Bands, c.1820
Courtesy: Barbara Robbins
Year: 2nd February, 1834
Dedication: Rt. Honble (Honorable) W. Geo Monckton Arundell, Viscount Galway, obt. 2nd February, 1834, AET 51