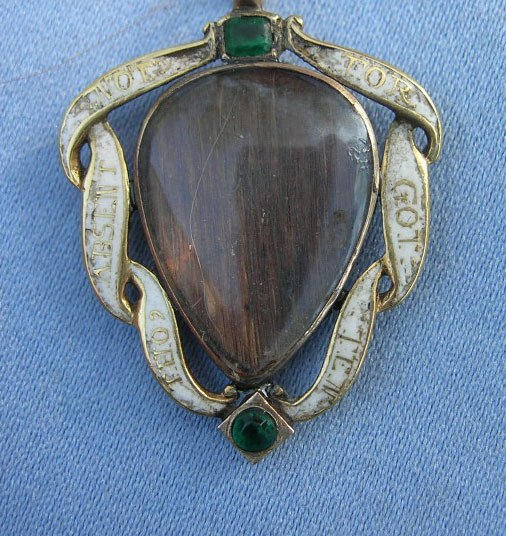 The DNA of this wonderful "Georgian Heart" pendant shares many characteristics with this particular 'REGARD' necklace, however, it is quite unique and important for several reasons.
Firstly, the ribbon motif is one of the most important designs in jewellery over the mid-18th century. Its integration into rings, pendants and any other peripheral jewel was obsequious, forming the boundary of the memento that it was flanking. Here, that memento is hairwork within the crystal memento. With the ribbon creating this wonderful border, it comes to form each point from north to south in the emeralds.
Here, with its usage of white enamel (signifying purity, innocence and virginity), the motif becomes the statement of the jewel and presents this outwardly.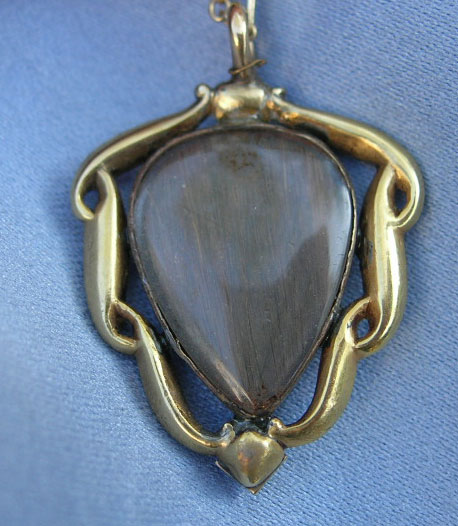 There is an element of the crown seen at the top of this piece, much the same as:
This is what makes the heart so important as a statement of living, as much as just a wonderful symbol in itself. The heart, a physical symbol, reflects love, and in a time of major discoveries both in technology and geography, understands the fundamentally physical nature of the 'self' as being the representation of love between two people. The crown, as an element, facilitates this; here is a challenge between the 'self' and the state, an element that was beginning to be challenged in France and America. The Romantic and humanist movements created the groundwork for the Neoclassical era that was to come.
For further viewings contemporary jewels showing the same motifs, please read:
> The Eternity Twist, Hairwork, Crystal and the Early 18th Century / Ring
> Eternity in a Twist: The Hon Alice Nugent in a 1730 Mourning Locket and the Hairwork Eternity
> Mourning Band From 1770 Tells of Things to Come
> White Enamel Memento Mori Ring, 1740 for a 16 Year Old
With the influence of the heart in English designs previous to the Neoclassical era, we see the look towards the Continent, particularly French and Austria, which was due to the higher mobility granted by higher wealth and technologies that could support this.
Note the reverse of this pendant and the showing of hairwork underneath. With the rounded gold to the reverse of the ribbon, this is an important design style used to identify pieces from the 1720-40 era.
Courtesy: Barbara Robbins
Country: England
Year: c. 1760-70
Dedication: Absent Not Forgotten