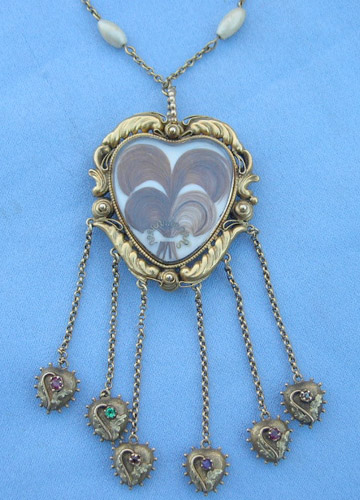 'REGARD' jewellery are love tokens, finding popularity from the early 19th century, that are still being produced today. These jewels are just as relevant in Western relationship structures for their timeless beautify and direct statement. Much of this is due to the revival in the early 19th century as to the 'magic' properties of gems and with increased trade and transit of the time, greater access the gems. This facilitated much of the change in popular styles of the time, focusing on the jewel, beyond the larger sentimental depiction of the previous late 18th century and the Neoclassical movement.
This style of love token had many variations, using the first letter of the gem; 'REGARD' in this is is spelled out with 'ruby', 'emerald', 'garnet', 'amethyst', 'ruby', and 'diamond'. 'LOVE' would be 'lapis-lazui', 'opal', 'vermeil' (hessonite garnet) and emerald. 'DEAREST' would be 'diamond', 'emerald', 'amethyst', 'ruby', 'emerald', 'sapphire', 'topaz'.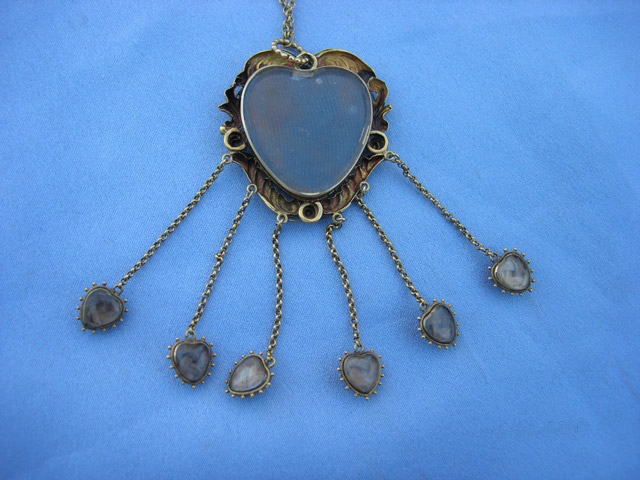 With this particular jewel, we have nearly every element of love token on display. From the feathered, palette-worked hair on top of milk glass, combining the loved one's hair together, to the heart motif and the cannetille (gold worked into filigree, inspired by embroidery) on forget-me-not 'REGARD' sentiments, there is no superfluous element; each works together.
One of the most important symbols, which relates directly to the centre of this piece is the the heart motif. During the 18th century, the heart was used in jewels, from pendants to brooches, and adopted as a shape that was alluded to in peripheral symbols. This heart shape can be seen in the distinctly in the chatelaine-style pendant, holding the tokens of regard and the tokens themselves. The heart motif can be better seen in the articles; Eternity in a Twist: The Hon Alice Nugent in a 1730 Mourning Locket and the Hairwork Eternity and this 18th Century Diamond Fede Ring.
Not without its surprises, this piece is even more distinctive when turned over. For a piece that is essentially a combination of hearts, its very essence is turned inwards, with the woven hairwork mementos actually claiming the underneaths of the 'REGARD' gems, constantly worn over the heart itself.
Truly the epitome of its time, this necklace exemplifies fine jewellery as much today as the day it was created.