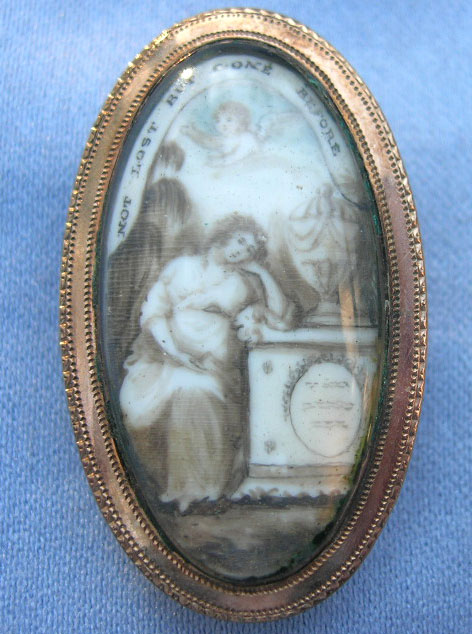 There is a lot of elegant and unique detail in this wonderful brooch, much of its representation is quite simple and quite bespoke.
The piece depicts the cherub waiting in the heavens amongst the clouds, flanked with the unbalanced 'NOT LOST BUT GONE BEFORE' across the border. In the centre is the female leaning against the plinth with her left arm and the large urn next to her. The background is quite delicately painted with the willow in a non-standardised method.
With these elements working in unison to project a mourning scenario, we can approach this piece for its individual style. The lack of standardisation and the amount of personalisation in the depiction of the female and her surroundings shows that the piece was most likely not pre-designed. The reclining female takes up the majority of space within the piece and doesn't balance the perspective between her, the urn and the cherub above – everything is immediate in the depiction at the front of the stage. The costume, hairstyle and face of the female are not the Romantic idealised portrayal of the female that became so ubiquitous during the 1790s, showing even more personalisation to the piece.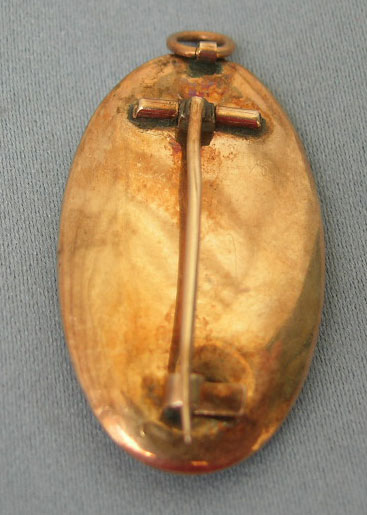 Note the colour used on the blue sky and the cherub, forcing the eye to move towards the heavens and focus on the cherub, which is almost a necessity, as that area is so tightly forced to the north of the piece.
Finally, the bordering of the piece and the lettering of the dedication are uneven and awkwardly designed with the rest of the elements; the production of pre-designed pieces were often manufactured to a set master template. If the piece was customised after purchase, the dedication at the least had a good level of personal thought put into it.
A wonderful and colourful piece that represents a beautiful period in jewels that has much to offer us in discussion.
Courtesy: Barbara Robbins
Year: c. 1790