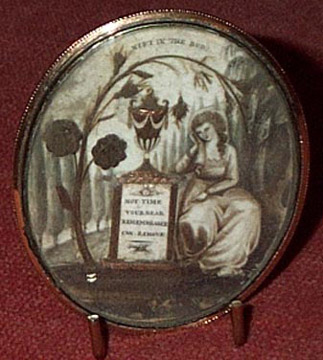 The floral motif runs strong in this large sepia miniature. Each symbol carries into itself and it has accomplished this due to its scale and its quality. There are three dimensional elements in high relief and customised dedications upon the art itself, making the piece stand out from its peers.
Measuring 2 and ¼ inches long and 2 inches wide, the direct oval shape itself is a unique one, not following the navette style which was popular at the time, but following a more displayable shape that presents the art. There is no inscription to the back of the piece, but upon the front at the top reads 'NYPT In The Bud" with "Not Time Your Dear Remembrance Can Remove"
"NYPT In The Bud" is a wonderful sentiment when taken into context of the floral symbolism that grows beneath it. This life cut short is balanced with the beauty and growth of the symbolism and the sentiment. The flowers are built in high relief with hairwork and sepia, a technique not uncommon for the early 1790s. Note that there are two flowers depicted in large scale, denoting the two lovers.
The urn is standard for its style, also being in high relief, built with hair, gold and enamel (note the use of white enamel), balancing directly on top of the plinth, with the sentiment "Not Time Your Dear Remembrance Can Remove" equally balanced on ivory at the front. Here is where we see that the design of the overall piece was unified from the beginning, there's no typical customisation to the piece.
With the mourning female character, note her curled hair and posture. It's very different from the standard position of the female standing next to the tomb or plinth. She is reclining back into the piece, proving its depth of perception to the viewer. Cypress trees pointing to heaven flank the border of the piece and help show this depth.
All in all, this is a wonderful jewel that still resonates today. Unfortunately, there is no inscription upon the back, but the sentiment is not lost to time.
Further Reading
– A Navette Sepia Hairwork Mourning Ring, c.1790
– A Father's Grief in a Ring from 1796
– Memento Mori in Jewellery: Anachronistic 1780s White Enamel Ring Where Memento Mori Meets Neoclassicism
Courtesy: Barbara Robbins
Year: c. 1790