A perfect example of an early use of the white enamelled convention for signifying the unmarried or 'virginal', this crystal ring is superb in its Rococo detailing. At the height of its art form, this ring still retains the skull memento under crystal as well as the more fashionable scroll/ribbon band.

By this time, the scroll-work band had shown refinement in the slight twist to the gold work. This would give way to more elaborate Rococo details as seen in the following pieces, but would remain constant well into the 1760s.
This piece shows the transition of formalisation from the more ordered Baroque to the extremely opulent and organic styling of Rococo. Indeed, its intent is respectful in its approach to being a mourning ring for a child – it doesn't try to redefine fashion, but it uses its formality in a proper way.
Note the elongated wave to the ribbon motif and then the gold flourish that interconnects them. This is quite similar to another piece from 1740 featured on Art of Mourning, a piece that correlates from near the same date, but takes the embellishments to the extreme.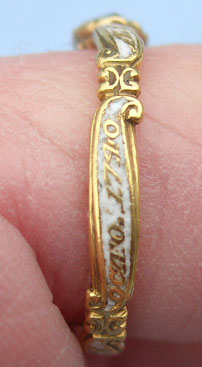 It is important to note the white enamel and how that established itself as a popular motif in jewellery (particularly bands) by the 17th century. It was standardised in design and symbolism as an element for purity and virginity, contrasting with black enamel, which was now the understood colour of mourning. Bands would take this style and adapt, regardless of the bezel (bands that continued the scroll/ribbon motif as a band were common), through the Rococo and Neoclassical periods, right through to the 20th century. Enamelled bands with the dedication surrounding the band is one of the most popular forms of mourning jewellery.
Courtesy: Barbara Robbins
Year: 1740
Dedication: Eliz Easton, ob 7th October, 1740, AE 16