Hairwork is a strange material to the modern viewer. Clouded with mystique and modern interpretations of what hair means, this was a material that has been influential in jewellery since pre-history. Indeed, one of the largest and most progressive industries arose through hair working; allowing female workers in the 18th century to work within industry and also enabling an importing/exporting trade throughout Europe of coloured hair, which was matched and woven to mimic the same type of a loved one.
Much of the mystique comes from hair being a morbid material. Most antique jewellery salespeople tend to consider hair as the subject of mortality; being something taken from the head of the recently deceased and put/woven into a jewel. This was not the case. Much like Jet jewellery, it was fashionable and socially acceptable to wear the hair of a loved one, being that of a wife, husband, child or parent. These tokens were woven into bracelets, fobs, into rings, brooches and any other form of accessory. This hit its peak during the mid 19th century, with much of the industry being buoyed by the death of Prince Albert and Queen Victoria's subsequent turn to mourning. Not only did the jewellery and fashion of the time focus upon mourning as an affectation in society, but it was also popular for the needs of love and sentimentality.
To see how this impact reflected on many of the styles of the time, let's look to these hairwork articles and their catalogue references: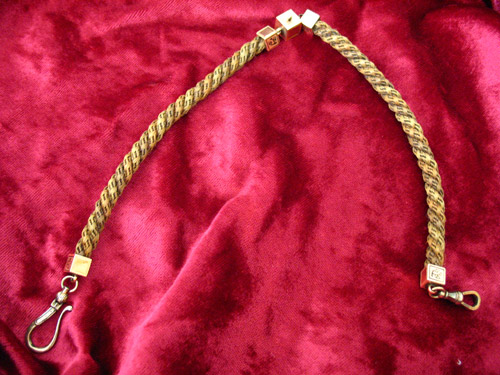 > Art of Hairwork 1: Victorian Hairwork Fob Chain With Serpent Clasp
> Art of Hairwork 2: Directions for New Beginners
> Art of Hairwork 3: Victorian Hairwork Fob Chain With Locket
> Art of Hairwork 4: Victorian Hairwork Fob Chain With Acorn Charms
> Art of Hairwork 5: Victorian Hairwork Fob Chain With Black Enamel Fittings
Furthermore, I have written about the history of hair working, which shows how the developed fashion in early modern society. Please take the time to look through this article and find references to other contemporary times when hairwork was popular with common mourning and sentimentality.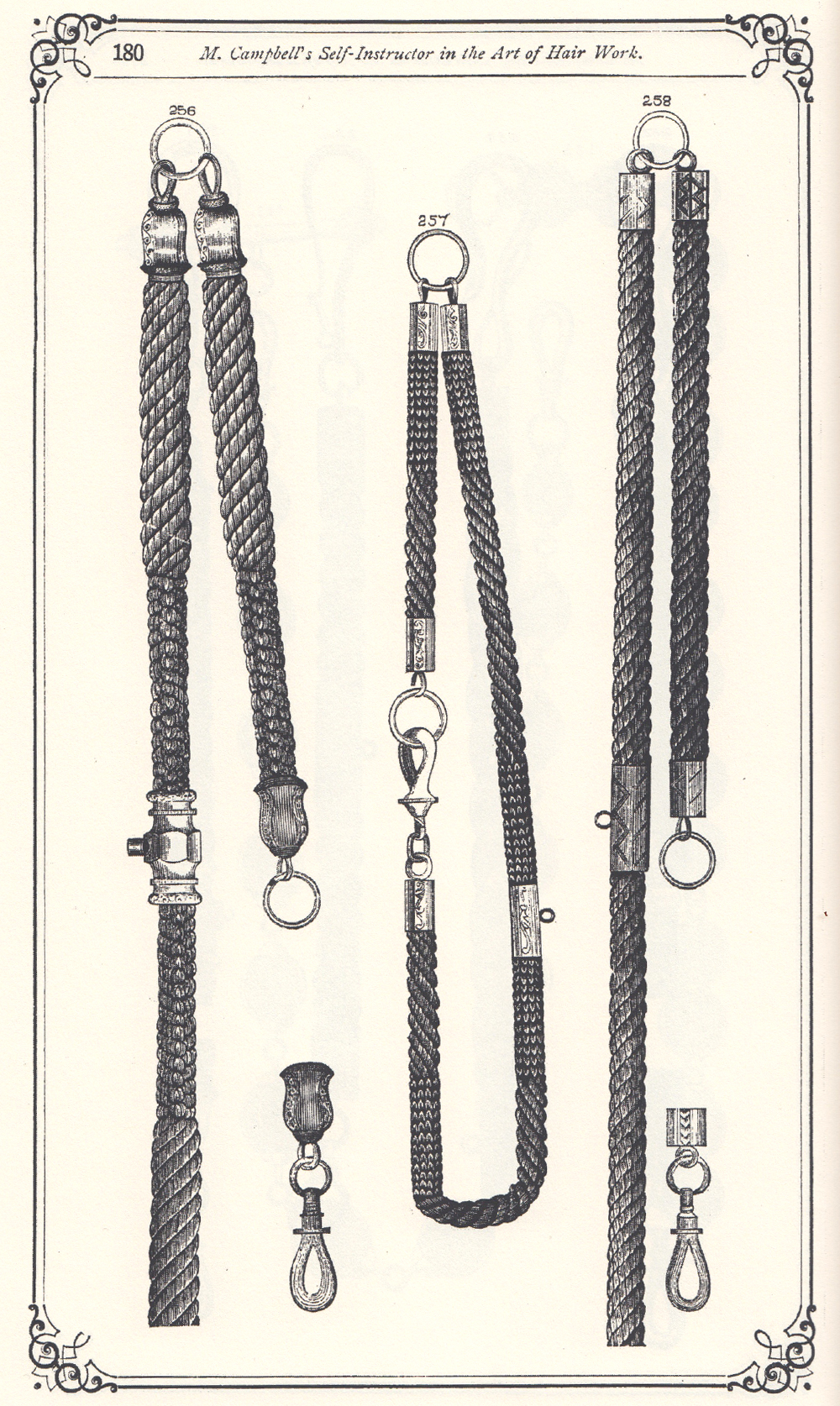 All these beg the question of how was jewellery adapting to hairwork in a very early stage? This can be seen in the industry that flourished under Charles II. Charles I was executed in 1649 and it was the memorial jewellery by the royalists which created the tokens of sentimentality that grew an industry around them. Hairwork was important for this, as it bought the immediacy of the individual to the forefront of the jewel. Gold wire cypher was often placed on top of woven hair in a ring (under faceted crystal), showing the family in a jewel. This was also quite popular in ribbon slides.
 

> Ribbon Slides, The Beginning
> Two Love Hearts, Hairwork in a Ribbon Slide
> A Heart Shaped Ribbon Slide, 1687
> Memento Mori in a Ribbon Slide, Scythe, Hourglass and Skeleton Within!
> Skull and Hairwork in a 1697 Stuart Crystal Ribbon Slide
> Queen Mary II Memento Mori Slide
This definition of the self, beyond the ecclesiastical eventuality of mortality was very important in 17th/early 18th century society, leading to the popularity of the Memento Mori jewels.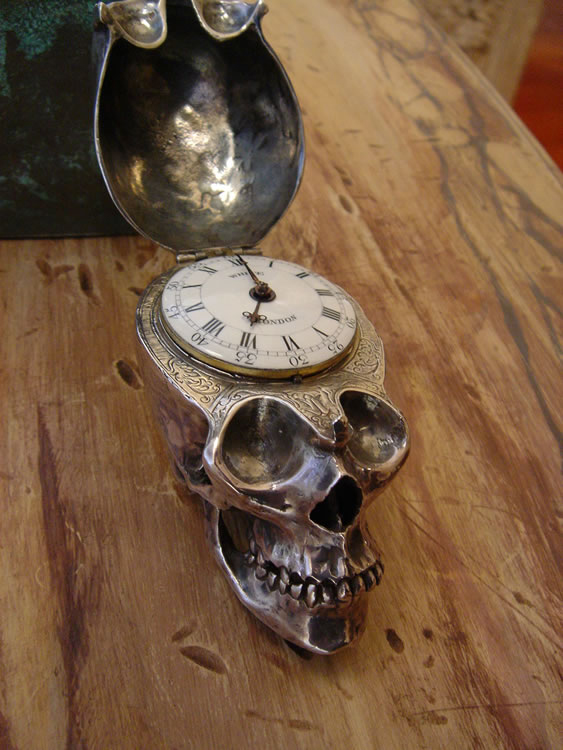 > How Society Entered Mourning: c.1680-1700 Memento Mori Mourning Ring
>  Defining Memento Mori Though Presentation: 18th Century Skull on Pendant
>  Skeletal Rings, Memento Mori and the Evolution of the Symbol
>  Skulls, Rings, the 19th Century… What We Must Ask
Hair in the Neoclassical era, the period relating to post 1765, where the Greek and Roman classical influences upon Enlightened thought led to their interpretations in art, was abundant. Hair, ground down into sepia paint was popularly seen in the Neoclassical depictions which were painted on ivory.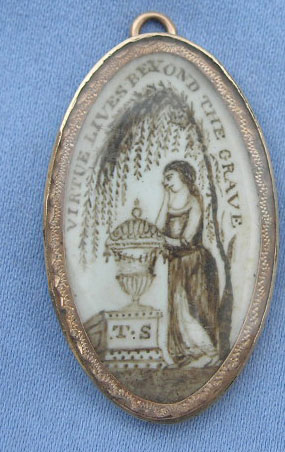 > In Memory of My Dear and Amiable Friend Urn/Hairwork Pendant
> Neoclassical Shepherdess Sepia Pendant
> To bliss / There's rest in Heaven Sepia Neoclassical Pendant
> Virtue Lives Beyond The Grave Sepia Pendant, 1776
> Tho Lost to Sight, To Memory Dear Miniature
> In Spite of Envy, The Ideal Neoclassical Bracelet
> Weeping Angel Neoclassical Bracelet
From this, the Gothic Revival era bought upon a new interpretation of the Christian family, which was also instilled by Queen Victoria. More of this can be seen in the following articles: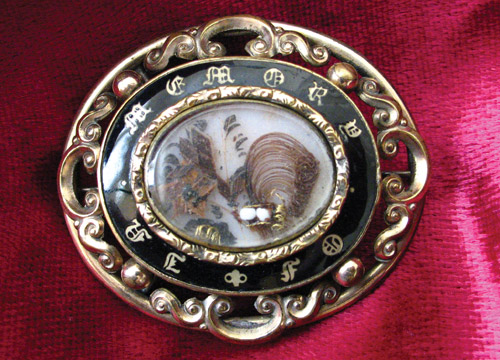 > Gothic Revival in Culture and Jewellery: Part 1, c.1740-c.1850
> Gothic Revival in Culture and Jewellery: Part 2, c.1850-c.1900
> Gothic Revival in Culture and Jewellery: Part 3, Breaking Perceptions 
So, next time you look to the hair of your loved one, be sure to note how precious their very being is. Every element that encompasses their being is something which should be remembered. A relationship is a series of shared moments and if something as renewal as hair can be taken and placed in a jewel for your eternal memory, then take that and keep it safe for a constant reminder of what love means.