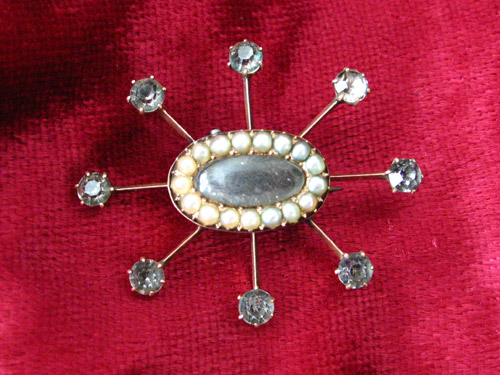 A marriage between two jewels can be just as sentimental as a marriage within a relationship. Additions to jewels show longevity and continuity of a jewel; resonating a new meaning of love for another from generation to generation. Many of the 19th century jewels that denote love were often adapted for mourning, this followed the enforced stages of mourning.
Mourning regulation went through different permeations in the 19th century and became longer and more rigid. It was on the 7th of November, 1817 upon the death of Princess Charlotte that Lord Chamberlain ordered official Court mourning: 'the Ladies to wear black bombazines, plain muslins or long lawn crape hoods, shammy shoes and gloves and crape fans. The Gentlemen to wear black cloth without buttons on the sleeves or pockets, plain muslin or long lawn cravats and weepers [white cuffs] shammy shoes and gloves, crape hatbands and black swords and buckles.' For undress wear, dark grey frock coats were permissible. The Second stage was decreed two months later, with the allowance of black silk fabric, fringed or plain linen, white gloves, black shoes, fans and tippets, white necklaces and earrings, grey or white lusterings, damasks or tabbies and lightweight silks for undress wear. Men's dress was unchanged. The third stage allowed women to wear black silk and velvet, coloured buttons, fans and tippets and plain white, silver or gold combination coloured stuff with black ribbons. Men could wear white, gold or silver brocaded waistcoats with black suits. The rules set by Lord Chamberlain crossed Europe, the United States (from the 1860s / 70s) and colonial territories, but Court mourning was longer than General mourning. General mourning was growing in popularity due to the accessibility of mourning costume and the cost.
The rules became more complex, however, as convention dictated. 'Mothers should wear black without crape for six weeks after the death of the mothers or fathers-in-law of their married children. A second wife, on the death of her husband's first wife's parents, was expected to wear black silk, without crape, for three months.' The rules became greatly convoluted, and the importance relied ever higher on the woman. Widowers could remarry as soon as they pleased, even during mourning. The Grand Maison de Noir stated that a man should leave off his mourning for the ceremony but take it up the next day. Furthermore 'his new wife should equally associate herself with his mourning', wearing only black or shades of half-mourning in memory of her. Basically, the convention dictated 2.5 years for a husband, 18 months for a parent, twelve months for a child, six months for a sister or brother and six to three months for a first cousin.
With this brooch, we see an adaption of the centre jewel to the paste starburst motif. What can be seen from this (not pictured) is that the addition was relatively close to the original brooch's date.
From the shape of the centre of the brooch, where the hair is surrounded by the pearls, is that its origin is from the early 19th century. This oval shape was quite popular during c.1810-20 in both brooches and rings. Further example of these can be seen below:
From a stylistic perspective, one must look to concurrent trends in jewels and fashion to see where a potential connection may be made for jewels. For mourning jewels, the addition of coloured gems in latter stages of mourning were typical, changing the conceit of a ring or a brooch to be more appropriate and decorative when socially it was allowed. For a sentimental piece like this, it conforms with many of the tenants of the Halley's Comet jewels, popular in England when it appeared in 1835. Brooches were popular love tokens, especially with the design of the gem at the front and the tail in gold following this.
On 16 November 1835, Halley's Comet passed by an caused a phenomenon in jewelley. Just like the Georgian Eye, it captivated people and spurred on a style of sweeping back jewellery that still has elements used today.
Often, hair was used in the centerpiece as a love token or memento, but more commonly, emeralds, diamonds, paste or other gems were used to create the center of the comet and accentuate its tail in goldwork (often with another gem in the back).
You can spot the older pieces by the 1830s elaboration to the goldwork (usually in the tail), with later pieces being less embellished and more streamlined. This continued until pins started to take on more of a straight bar shape.
Cultural phenomenon is just as important to fashion styles as the enforced nature of fashion proprietary. Particularly with sentimental jewels, always look to fashion in order to understand their existence; often it can be as simple as the size of a cuff or collar denoting the weight or design of a jewel, as opposed to the intrinsic message that it is trying to convey.