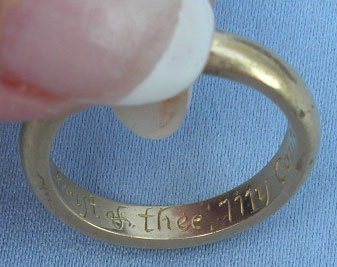 Rings that define a relationship are often linked to the sanctity of religious piety, as that is the covenant that links two together in matrimony. When a ring has the sentiment of 'In Christ and thee my comfort be', we have a message that equates the loved one to be considered an equal with Christ, or the religious ideal of worship.
Posie rings are quite personal in their sentiments, but not always unique. Popular messages of the day, carried by chapbooks (pamphlets sold cheaply and caring political/social/cultural entertainment) were the general way of replicating a message within a ring, but they were also personal statements of love written phonetically. Chapbooks often had popular authors of the time, hence the message passed through society as a lyric or a poem, rather than being a standard comment between people. Adversely, bible scripture (in English, rather than Latin) were popular sentiments, and here we have a union of the two. A message of a religious statement equating to the religious.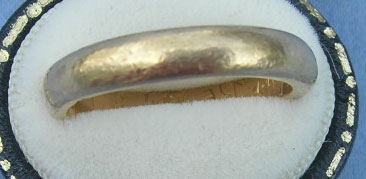 There is a hallmark on this piece that reads 'IB' (possibly John Bride / London and registered in 1823 or Joseph Bird, of London, 1724). The leaning for this date is certainly the latter, as can be seen in the following Last Will and Testament from 1743:
In the Name of God Amen This Seventh Day of November in the Year of our Lord one thousand seven hundred and forty one and in the ffifteenth year of the reign of our sovereigne Lord George the Second King of Great Britain ffrance and Ireland And so forth I Jane Carder of the Parish of Portsea in the County of Southampton Widow being at present weak in body but of sound and disposing mind memory and understanding Do for avoiding controversies after my decease make publish and declare this my last Will and Testament in manner following (that is to say) ffirst and principally I give and resign my Soul into the hands of Almighty God that gave it and my body I commit to the Earth from whence it was taken and the same to be carried and conveyed in a hearse to Titchfield in the said County and be buried by my Executrix hereinafter named in a decent manner in the Church Yard there And as for and concerning such Worldly Estate which Almighty God hath been pleased to bless me with in this Life I give devise bequeath and dispose thereof as followeth (that is to say) Also I give devise and bequeath unto my loving Daughter Elizabeth Jesser the Wife of John Jesser of Gosport in the said County of Southampton All and Singular my Wearing Apparel both Linnen and Woollen of what kind or nature soever the same be of Also my Gold Ring the Posie thereof (in Christ and thee my Comfort be) together with my best ffeather bed bedstead, Blue china curtains Coaster head-board vallens Iron rods one Quilt, three Blanketts, two sheets and other things to the same belonging and appertaining, half a dozen of my best Cane Chairs and one great Elbow Chair with a Cushion in it One Corner Cupboard One Tea Table, two wrought pictures one large Looking-Glass one brass stove, one brass ffire pan, brass pair of Tongs and poker one pair of Walnuttree Chest of Drawers one Square Chamber Table and one Silver Spoon markt BR Also I give and bequeath unto my loving Son John Hawford my Gold Mourning Ring with a white stone affixt in it Also I give and bequeath unto my Grand-daughter Elizabeth Jesser my Silver Cup markt WCE Also all the rest residue and remainder of my Leasehold Goods Chattells and Personal Estate whatsoever and of what kind or nature soever as shall be any ways due owing payable and belonging unto me at the time of my decease (after the payment of my debts Legacies ffuneral charges and expences in proving this my Will) the same and every part and parcell thereof I do hereby give devise and bequeath unto my said Son John Hawford and my Son Richard Hawford to be equally divided between them and each of my said two Sons share and share alike And I do hereby make nominate and appoint my said Daughter Elizabeth Jesser sole Executrix of this my Last Will and Testament In Witness whereof hereby revoking all former and other Wills by me at any time heretofore made I have hereunto set my hand and seal the day and year
first above written Jane Carder
John Gardiner Willm Caxton Jas Creichton
Proved 26th October 1743 PCC
Prob11/729
The posie is given as a personal gift, amongst the mourning rings that were quite specified. From the date this was written and the sentiment that is stated, the ring would even date from an earlier time. Unto his daughter, the ring fits in with his 'wearing apparel' and shows that the ring was in daily use. As would have been posie rings; from their intrinsic nature, they were messages of love between two people and the daily wearing of the rings is not uncommon.
Courtesy: Barbara Robbins
Country: England
Dedication: In Christ and Thee My Comfort Be.