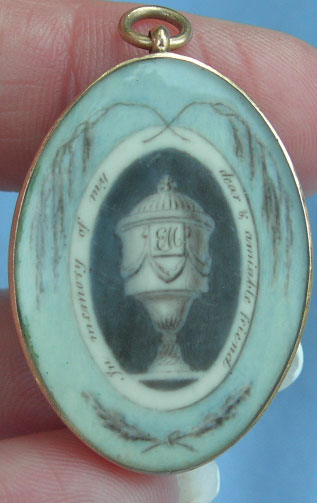 From the 1790s, the sharp north-south navette shape had reached its height. Those pieces which accommodated this shape (such as these), allowed for much of their allegorical symbolism to work with the shape, such as the willow being used as a border to the sharp north-facing tip of the jewel. By 1800, shapes and styles were beginning to change. A return to the rounder, softer, oval shapes started to become popular enough to house miniatures and tokens of affection, leading into the post-1810 period that welcomed in rectangular glass receptacles for hairwork tokens in rings and brooches.
In this pendant, there are two major elements to take into account. One is its country of origin and what that reacted to fashion and design; the second is the use of the interior space as a canvas for the art.
Two of the most noticeable elements are the union of the willows to flank the urn and break through the sentimental area. Below, they are joined by the two sheaves, tied together in a knot motif. Here, we see the beginnings of an allegorical tale. Here, we have the symbols of mourning, age and eternity.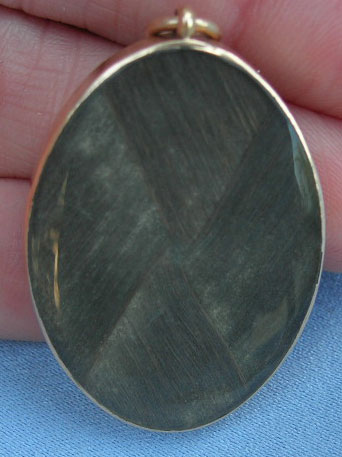 Most unusually, the dedication and the urn are sitting inside their own border, almost a jewel within a jewel, and the detail to the urn is quite singular and representative of the artist. Notice the shading to the urn and its dominant perspective, as we are looking up at the urn. There is an element of royalty to it, as the viewer cannot approach its design without feeling underneath its gaze.
Which brings us back to the country of origin. On first viewing, one would think this was a French piece; from its individuality and departure from standardised style that would be typical of English. Even the wording 'dear and amiable friend', which the emphasis on 'amiable', with its basis in Old French and being used in French pieces with 18th century dedications, leans towards a French influence.
The 18th century welcomed in greater convention for mourning fashion and began to see the rise of the mourning industry. This became so much so that mourning dress was becoming desirable and the difference between mourning and non mourning dress was narrowing. Much of the fashion in this century was dictated by the fabric rather than the cut, and the silk industries in France and England held major influence on mourning wear because of this. It was Ordre Chronologique des Deuils de la Cour, (1765) where details of Court mourning in France were published, giving precise tailoring instructions. From their first days in mourning, men were permitted to appear in Court, unless it was after the death of a parent from whom they had received inheritance. From a reactionary perspective, the English gathered much of their design and fashion elements from the continent, as the chance to be progressive without tighter constraints and better access to peripheral cultures (Russian, etc) led to greater fashion development.
With the reverse of the piece, the hairwork is tightly pressed under the convex glass with a four-way plat. This is another method that was popular, particularly in the continent, during the first quarter of the 19th century. Note the same style in other articles at Art of Mourning, particularly this piece:
> Circular Neoclassical Mourning Miniature

Further Reading:
> Wheat
> The Willow
> The Urn
Courtesy: Barbara Robbins
Dedication: EM / In memory of my dear and amiable friend
Year: c. 1800