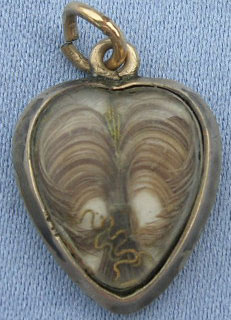 The heart, as a motif in jewellery symbolism, is one of the most potent symbols of love represented as a physical symbol in any dedication. Be it a jewel or a piece of art, the heart represents the true 'self' when it is given to another as a token of love. Indeed, the heart itself is the essence of 'love'.
Following these pieces, we can see how the heart has developed as a motif from the early modern jewels of indicative design into the proper shape that we see here:
> An Eternity Knot in a Crystal Heart Pendant
> Mourning Crystal "Georgian" Heart
> 18th Century Ribbon Motif Pendant
> French Ribbon Pendant, 18th Century
> Hairwork Bow/Ribbon Pendant
> Rien Sans Amitie, Cabochon Garnet French Mourning Locket
> Merit Claims Esteem/Bow Heart Locket, 18th Century
> Embellished Georgian Heart Love Pendant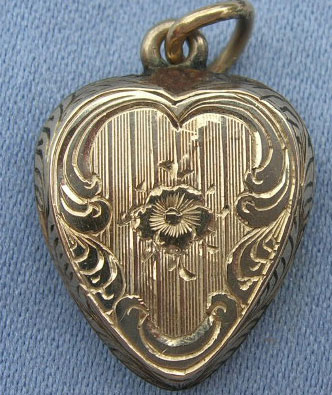 So, the most important aspect of this jewel is how it was carried over from previous time. We have all the motifs of the first half of the 19th century used in their popular context; the forget-me-not, the acanthus and on the reverse, the feathered, palette-worked hair with gold wire woven in-between. These motifs are still used today in a popular context (apart from the hair!), often in architecture and design that relates to the classical, but can be found replicated in modern jewels that try to grasp the elements of the historical. This jewel, however, tells a tale of simplicity and the direct giving of love that exemplifies its time.
Size is an important issue with a jewel like this. By the early 19th century, jewels had begun to reduce in size from their navette and oval shapes carrying Neoclassical depictions, into jewels that used only a gem or hair to reveal their meaning. Simplicity at a time when there was much social and physical mobility was essential; fast production given at short notice to someone leaving their locality would be necessary. Higher production levels from mass-produced jewels and fast customisation by the person who had bought or commissioned it facilitated this.
Yet, essentially, a heart worn over a heart is the most important element of all. Small, unassuming and a connection between two people is the bond of love that a jewel can give; in this piece, we have all the elements working together to produce an outcome which had resonated through time.