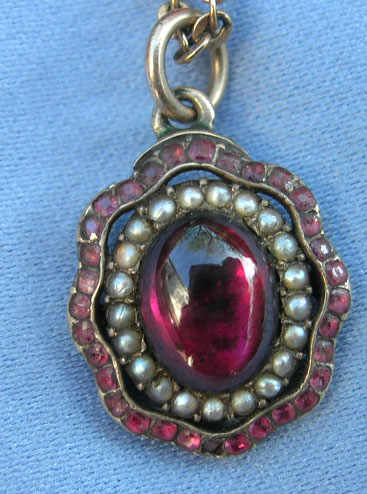 By the time this piece became popular in fashionable styles, the 'magical' property of gems had started to permeate through mainstream fashion, an element facilitated by higher levels of production, industry which facilitated this, and transit, making international importing and exporting possible.
However, this piece is the predecessor to the pieces of the early 19th century which were much more common. Gems, and their meanings, were a popular element of the 19th century, whereas when this piece was designed and dedicated, the symbolic allegory of love in Neoclassical popularity was still the standard of love and grief.
When a gem was used for its element of being fashionable, it denotes status more so than its 19th century successors would. This piece has a collection of rubies surrounding an oval interior of pearls and inside beats the heart of a cabochon garnet. Access to pearls and foreign gems was a new trend that previous generations would have very little of. Now, with the invention of faster ships, colonisation and plotted geography, importing over the sea allowed for this. Previously, precious gems that needed to pass through the Mediterranean or cross the Continent was relegated to royalty and the aristocracy, but now, though still expensive, wealthier classes could utilise these magnificent gems and materials.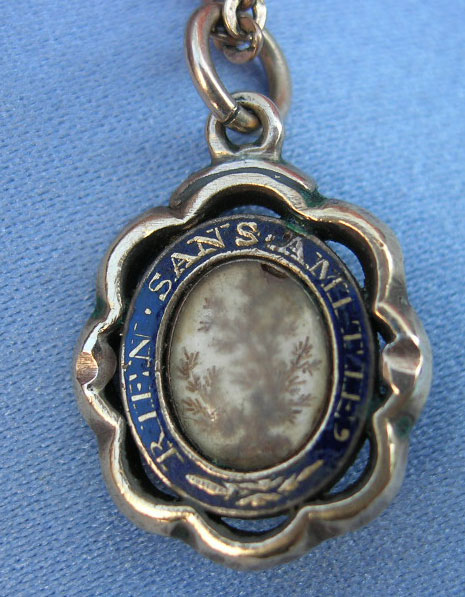 The design of this piece is highly calculated to accommodate for the gems. In essence, it holds on to the earlier heart shape (see further reading below), in terms of the surrounding floral border. This border, with its allusion to the floral shape also has an element of the ribbon, which was popular during the early to mid 18th century. Inside, the pearls, a common material in the latter 18th century surround the cabochon garnet, which has its connection to the 'heart' itself. There is also the use of blue enamel, an element which denotes the loved one was considered 'royalty', and with a piece like this, it's obvious to see why.
On the reverse, we have the sepia tree and the dedication. It is important to note that, rather than its contemporaries, the gems are the front and the Neoclassical element is relegated to the back as a simple dedication, something which is excessive in its detail. For most pieces, this would be the piece itself and if there were more hairwork, this would be under a simple glass compartment on the reverse.
Further Reading:
> An Eternity Knot in a Crystal Heart Pendant
> Mourning Crystal "Georgian" Heart
> 18th Century Ribbon Motif Pendant
> French Ribbon Pendant, 18th Century
> Hairwork Bow/Ribbon Pendant
Courtesy: Barbara Robbins
Country: England
Year: c. 1780-90
Dedication: Rien Sans Amitie