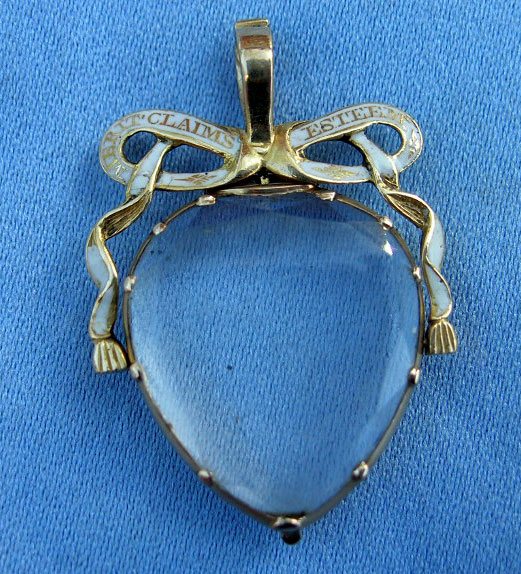 Before we take a look at this wonderful 'Georgian Heart' pendant, it's valuable to read through the following articles:
> An Eternity Knot in a Crystal Heart Pendant
> Mourning Crystal "Georgian" Heart
> 18th Century Ribbon Motif Pendant
> French Ribbon Pendant, 18th Century
> Hairwork Bow/Ribbon Pendant
From these articles, we've covered the influence of French design and culture upon the 18th century jewels of England and how court imposed mourning fashion had become standardised, leading to the establishment of the mourning industry. With the Rococo movement adding its organic design elements as an evolution of the Baroque, a more humanist focus and art and design makes the value of the 'self' important. Here, the symbol of the heart is fundamental in its representation of mourning, as the person being mourned is reflected in the love of the person wearing the jewel. The love between two people is the link between the physical world and the spiritual, rather than a religious icon being the conduit of transition of the soul.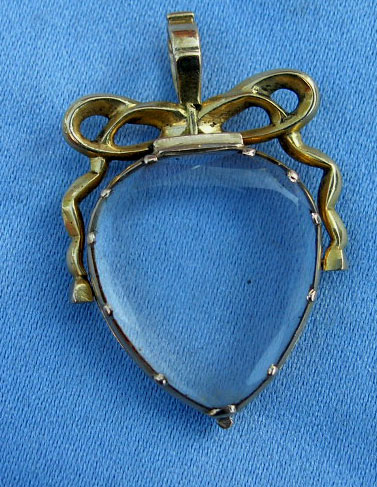 The ribbon as a design motif was incredibly popular. Its use in rings, pendants and as an adornment in architecture, reflected the pervasive opulence of the Rococo style. Here, it brings the heart into the third dimension, in the same way that drapery would adorn an urn in the latter 18th century Neoclassical style. The detail to this particular piece is quite elaborate, with the dedication of 'Merit Claims Esteem' beautifully integrated into the bow at the top and notice the tassels at the bottom of the ribbon; this is quite a detailed piece. White enamel denotes the virginity/purity/innocence of the loved one – a detail often retained for unmarried women or young children.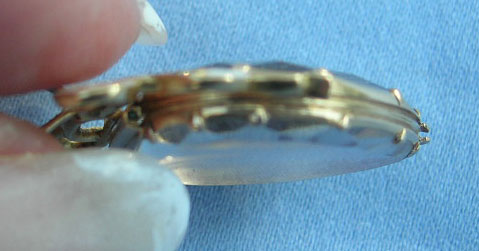 With the empty compartment in the centre of this piece, it is a safe assumption that this once contained hairwork. This was a style that evolved and continues to exist in modern jewels, as pendants holding tokens of affection in photography or a keepsake are still commonly sold and quite popular. Much of this is to do with the way that the pendant is worn; being either external to clothing for all to see, or hidden underneath and worn over the heart. Rings and pendants are often the most important for jewellery identification, as their utilitarian nature makes them constantly in fashion and as styles change and adapt, they gain the designs of their contemporary time. For this jewel, the heart shape would evolve into oval shapes of the early 19th century and carry through the dual-transparency of the glass to present hairwork, however, the ribbon motifs would change and adapt to fashion.
Courtesy: Barbara Robbins
Country: England
Year: c. 1780-90
Dedication: Merit Claims Esteem