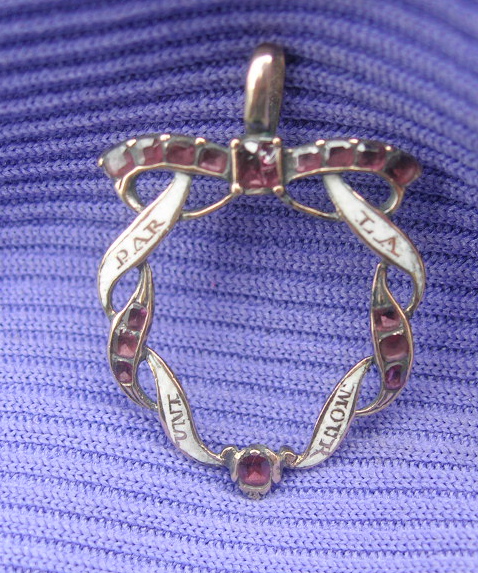 Here, the ribbon motif is used in grand style to accommodate the heart shape within, however, the heart is missing from this piece and what we're left with is one of the most ideal 18th century 'Georgian Heart' borders that one can see. For a viewing of a piece in close relation to this, please refer to the '18th Century Ribbon Motif Pendant' article.
Much of this is due to the creation of the piece, with it's French origin. The Rococo style was driven by decorative arts movements in Paris, Prague, Lisbon, Vienna and Italy, then popularised by Louis XIV and XV (respectively). Taking the Baroque style and adding a naturalist, overly ornate elegance to embellish it, seeded its way through furniture, architecture, design and art. Here, with this pendant, we can see the separation of a formal, unified pendant style (such as the oval/rectangular shapes of the late 17th and early 18th century), turning the elements into the elaborate ribbon with its white enamel message.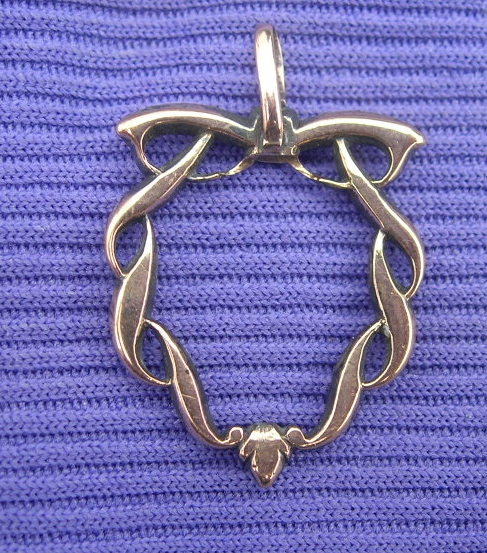 And it is the style that would resonate through to English society and dominate jewellery designs. Since the Restoration period, the influence of European styles and philosophy, facilitated by social change and history discovery would shift the importance of the 'self' from the monarchy to the person.
Note the use of garnets and the relation of this setting into these particular rings:
> Embroidered Hair on Silk/Material Ring, 1763
> Eternity Knot Ring Shows Changing Styles in the 18thC
Garnets, particularly, were becoming the popular gem of choice for many memorial and sentimental jewels. Their use, from a symbolic point of view, was to enhance the meaning of the jewel they were set in, which was facilitated by the growing language of gems to relate to their symbolism. As the stages of mourning became indoctrinated, the use of gems for their colours and meaning became more and more important as a personal representation of mourning in fashion.
Courtesy: Barbara Robbins
Dedication: unt Par LA Mour