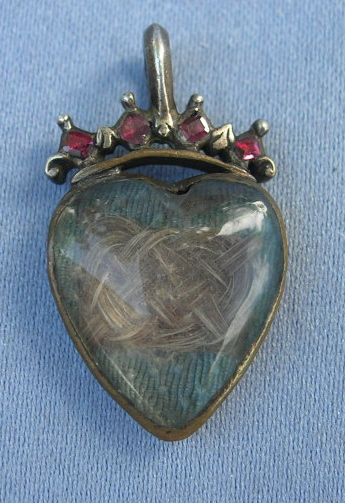 Romantic love from the 15th century depicted the heart motif, in terms of 'love' being a symbol of personal affection, but it was with the social mobility and higher industry of the late 17th century that led to the accessibility of the motif as a jewellery object that could be worn as a symbol of personal love.
Much of this is due to the dichotomy between religion and industry. With industry, there was a change between singular guilds focusing upon a specific trade, giving way to smaller groups of producers and developers that could sustain singular operations of productions (stores) to offer product. This was facilitated by industry and machinery that could produce metalworking in high demand.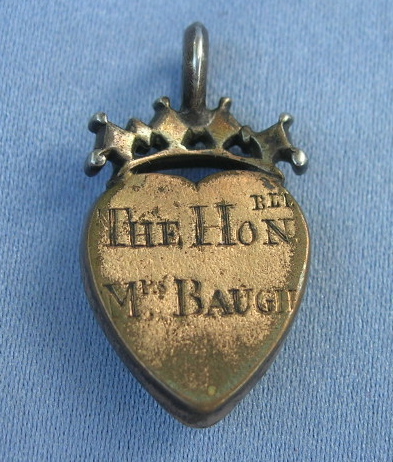 Religion and state play a high part of this, as the fashion of state dictates the necessity of the individual. With higher monetary income leading to social mobility, the people had the importance of grief and sentimentality thrust upon them in terms of fashion.
But here, we have the heart as being an element of respect to an ecclesiastical order, as well as being a personal statement of love.
The knot motif works perfectly with the crystal heart element in this pendant. From the late 17th century to the mid 18th century, the knot of hairwork placed inside a crystal (often with no bezel and a transparency) is a common love token element. The following pieces show how this was utilised in other contemporary jewels:
> Eternity Knot Ring Shows Changing Styles in the 18thC
> The Eternity Twist, Hairwork, Crystal and the Early 18th Century / Ring
As a motif, the knot/twist was easy to implement, being simple hairwork method, rather than requiring a high level of skill from a professional hair weaver.
Finally, the garnets that create the crown element of the piece are the mark of quality, which elevates the love token into a greater statement of fashion. Often, gems were ancillary, being utilised more in the early 19th century as the concept of the gem having 'magical properties' and then correlating to a symbolic definition, whereas earlier, the rarity of the gem and its use singularly added to the jewel's value and status.
Courtesy: Barbara Robbins
Country: England
Year: mid 18th century
Dedication: The Honorable Mrs. Baugh