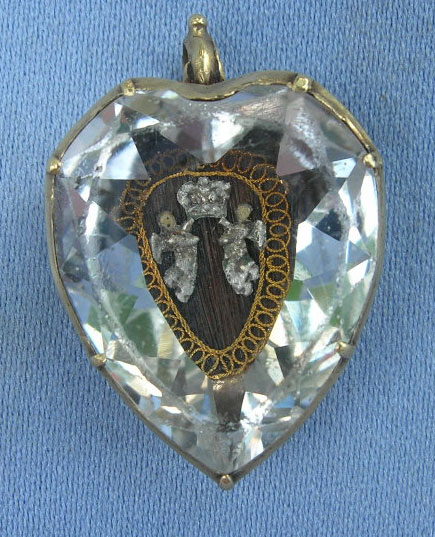 The heart as a motif and a symbol of love has defined the intrinsic message of love since early-modern times and still resonates with this message today. In jewellery, the heart is most typically associated (in mourning and sentimental terms) with the pieces referred to as the 'Georgian Heart', however, as with many jewels of the time, the motif was reinterpreted within contemporary styles of the time – much in the same way that the heart is still used today, but adapted to modern fashion.
With this pendant, the heart is in full use, with a clear indication of early 18th century style. The reverse of the pendant, with its use of the rosette design motif, is quite consistent with early 18th century pieces, for more on this style, please refer to the below articles:
> Eternity Knot Ring Shows Changing Styles in the 18thC
> Elaborate Rococo Memento Mori Ring, 1740
> 1730 White Enamel Stuart Crystal Ring
> J Scotts, 1699 Mourning Ring
> Louis XIV Memento Mori Intaglio Ring
> c1770 Garnet Paste Ring
> How Society Entered Mourning: c.1680-1700 Memento Mori Mourning Ring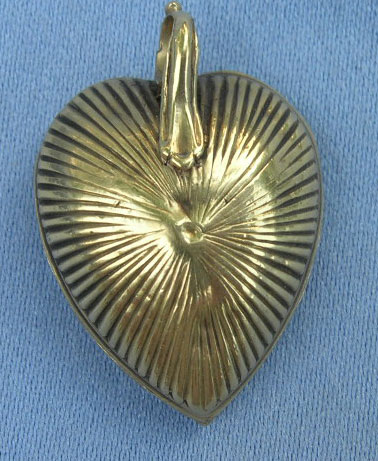 The development of this style is a step towards the Rococo designs that began to change the design of mourning and sentimental jewels from the 1720-1760 period. This was a fundamental change from the perspective of the jewels and also from the society that adapted this fashion into their lives. Underneath the design, the conceit of the jewel was mostly the same, with only ribbon slides falling out of fashion. Otherwise, rings, pendants and bracelets still held true to the concept of a jewel with a revealed dedication area for hair and symbolism on top.
The symbolism presented in this piece is far closer to Memento Mori of the latter 17th century than the evolution of these symbols in the 18th century. Indeed, the 'Memento Mori Stuart Crystal Heart' piece shows the link between pieces in the flanked cherub symbolism and their design. The crown in this piece alludes to the loved one being thought of as 'royalty' and in many cases was reserved for royalty itself.