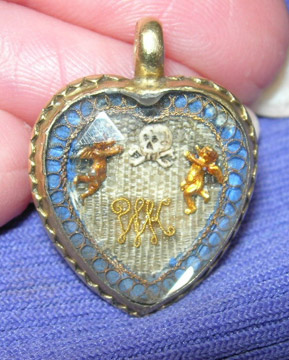 Several factors in this pendant make it pertinent to symbolic, industrial and cultural history. The truth in this piece is within its purpose; dedicated to an infant of 1 year and 7 months from 1703. On the face of it, what can we make from this piece? There is obviously an element of wealth imbued within its construction, yet there are also symbols that seem to be tailored for the occasion. Hairwork is in use, as well as a gold wire cipher.
Industrially, this piece reflects the establishment of the jewellery industry, which could produce pieces like this at a fast rate and tailor it to the customer's specifications. Contemporary jewels that were tailored to the individual, showing a standardisation of style and symbolism, are not uncommon or difficult to find – even today for the collector.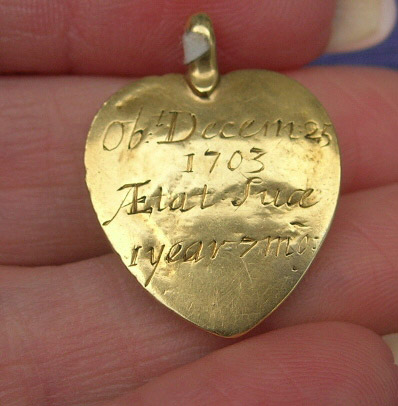 Memento Mori and the cherubs are used in balance, something seen from the 1680s in jewels (particularly slides) and the gold wire cipher on top of hairwork and/or material (often seen also in rings) are a collection of typical symbols for its time. The early 1700s did not see great change until the Rococo movement began to deconstruct the elements of these particular jewels (such as the shape of the heart), and reconfigure them in a style that was more streamlined and organic. For a superb example of this, please view the article 'Eternity in a Twist: The Hon Alice Nugent in a 1730 Mourning Locket and the Hairwork Eternity' this shows the use of the heart as a pendant shape, with the Rococo elements in use.
To see some wonderful uses of the 'flanking' style of symbolism, please view 'Angelic Skeletons in A Memento Mori Ribbon Slide' or 'Queen Mary II Memento Mori Slide' – while there were levels of quality that could be imbued within a jewel, elements could be changed regarding what the individual who commissioned the piece requested. Cipher, in use, can be seen in the following collection of piece: gold wire cipher.
Next, the hairwork is of a quality and weave which denotes a level of expertise and quality, the weave is tight and from jewels of the 1680s, there is a development of this style. Here, we have it on top of the blue material (suggesting the loved one was considered 'royalty') and because of this sentiment and statement, the piece resonates as a fashionable item for a person in grief of its time.
Whatever the case, depending on the level of society the person who wore this belonged to, the heart was a motif worn over the heart; a loving union between two people that makes the physical object as intrinsically fungible as the love between the parent and the child.
Further Reading
> An Eternity Knot in a Crystal Heart Pendant
> Mourning Crystal "Georgian" Heart
> 18th Century Ribbon Motif Pendant
> French Ribbon Pendant, 18th Century
> Hairwork Bow/Ribbon Pendant
> Rien Sans Amitie, Cabochon Garnet French Mourning Locket
> Merit Claims Esteem/Bow Heart Locket, 18th Century
> Embellished Georgian Heart Love Pendant
> Georgian Eye Miniature Inside a Pendant, c.1820
Courtesy: Barbara Robbins
Country: England
Year: 1703
Dedication: OB Decem 25, 1703, AEtat L (or S) uce, 1 year, 7 ,months