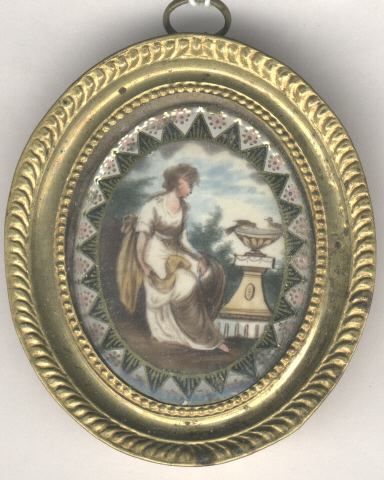 Here, we have a radiance of symbolism, infused into the Neoclassical miniature; a confluence of symbolism that is encapsulated within a magnificent frame.
Here, the female watches the two birds at the vessel above the plinth, with one bird bending to drink. This is a remarkable symbolic statement for its time, as this is unconventional. Certainly, the love birds are typical of love symbolism, but here, we have a challenge of symbolism in in the left bird drinking and the right bird sitting, yet there is an element of protection and unity between them.
The female in this depiction is detailed in ways that show her viewing the scene and also tethered to it. There is a consideration in the art of the female and how she's viewing the scene, contemplating it as much as being involved in it.
For understanding its literal interpretations, let's look to the following articles to decipher the symbols we see here:
> Neoclassical Symbolism in Two Bracelet Clasps
> Sepia Dove, Wreath, Hearts and a Column in a Georgian Ring
> The Cypress
> The Arrow and Quiver
> The Knot
> Property of a Lady: 18th Century Costume, Mourning and Art in a Neoclassical Miniature
> A Father, A Daughter and an 18th Century Miniature Portrait