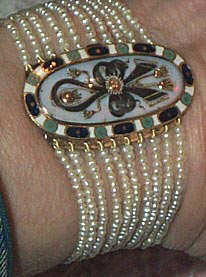 Popularity of the bracelet worked well with the neoclassical movement of the latter 18th Century. The size, and reliance on classical fashion, provided a good display for grand pieces upon the wrist. Above, the bracelet has a large hairwork panel inside clasp with the pearls delicately strung from the clasp. Pieces of this time housed wonderful hairwork panels, miniatures and neoclassical depictions. These ranged from mourning to sentimental, but are all equally grand.
Discovering Your Jewel
While I like to write and study a jewel to discover more about it, for this piece, I'm going to lead you along the path of finding out for yourself! For the collector and the interested, this is a great way to use Art of Mourning as a resource where you can discover more about your own jewels at home, and hopefully, give you a fun read along the way.
What can you see in the above bracelet? Palette worked hair? Pearls? Is that glass it is on? What about the symbolism? Certainly, some lovely enamel work. Follow these articles to discover more:
And there is much more in the archives to look through, but this is a good start. Create your inferences and post them in the comments or at the Art of Mourning Facebook Page to discuss with myself and other Mourners!
Courtesy: Barbara Robbins
Year: 1783
Dedication: "R Legard. July 1783, ae 34."