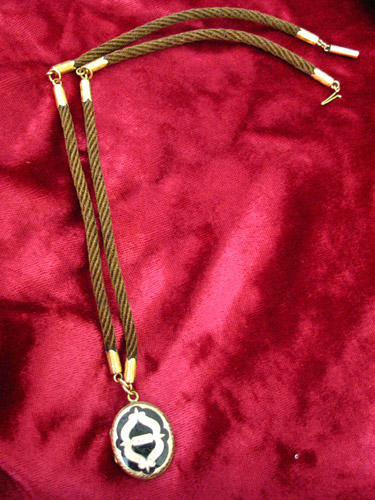 There is a union of three elements in this necklace and locket that symbolise the epitome of fashion and the convergence of this into Victorian lifestyle.
Focusing upon English culture and its influence through the British Empire, we have a society led by a Queen in perpetual mourning from 1861. This locket dates to c.1870-80 and appears during the apex and standardisation of mourning culture throughout an Empire for which the sun never sets. This cultural spread requires the necessity of mourning in its three stages and combined with a high mortality rate needed the presentation of mourning affectation to represent not only the individual, but the family. More on this can be read in the series of textiles and their influence in culture from the 17th to 20th centuries. For the purpose of this article, the 19th century is a good place to start:
Mourning is a necessity and this piece comes at a time where it is high fashion. The locket itself is finely detailed, with its pronounced mourning sentiment emblazoned across its facia. The focus of the piece clearly states its mourning intention.
Inside the locket, there is an ambrotype of a gentleman and his hair woven on the opposite side. Two elements that were becoming cheaper to acquire and popular to wear since the 1860s. With the inclusion of the ambrotype, this is the essential second element to present as the keepsake for the loved one; for more, please read through the series of articles on photography below:
Then we have the hairwork necklace itself. Necklaces like this are common throughout most of the 19th Century, though variation can be found in the style of the hair weave and occasionally the gold fittings. They were popular in fob chains, chatelaines and their peripherals, bracelets, woven into earrings, and almost all manner of jewellery accessory.
As the third element that makes this combination so essential for its time, let's take a look at the French and English hairworking industries, which undeniably led to the ubiquitous nature and use of hairwork as a material.
The hairworking industry in England was the main focus of the memorial industry and accordingly, there were many professionals who practised the art.
"Hair jewellery, Artist in Hair. Dewdney begs to inform Ladies or Gentlemen that he beautifully makes, and elegantly mounts in gold, Hair Bracelets, Chains, Brooches, Rings, Pins, Studs, etc. and forwards the same, at about one-half the usual charge. A beautiful collection of specimens handsomely mounted kept for inspection. An illustrated book sent free. Dewdney, 172 Fenchurch St. London." (Advertisement, Illustrated London News, May 1862).
There was much competition within the English industry in the 19th century. Advertisements and catalogue items, such as the one presented here, are examples of the extent to which hairworkers would go to in order to gain business. Alfred Shuff, of 34 Great Marlborough Street, Fosser of Hanover Street, Cleal of Poland Street and Bakewell of Red Lion Street, were all well known hairworkers and presented their hair at exhibitions 19. Alfred Shuff was noted for his hairwork in the mid 19th Century 20. However, it was B.Lee of 41 Rathbone Place who exhibited his work at the Great Exhibition of 1851.
19th century hairworking artists found it cheaper to purchase hair from convents on the Continent rather than use the hair given to them by clients, as stated by Godey's A Series of Papers on The Hair (1855): "Among the many curious occupations of the metropolis of London, is that of the human hair merchant. Of these there are several, and they import between them more than fifty tons of hair annually. Both England and the United States draw a large portion of their supply of human hair, and of articles made of hair, from France and Prussia. A singular feature on the continent is this 'hair harvest', as it has been termed". The 1840s – 1880s saw popularity in rings, bracelets, earrings and many other mass produced hairwork jewellery items. However popularity in English hairwork declined after 1880s, as did the mourning culture. New art styles, changing fashion and jewellery construction had evolved, making hairwork seem outdated in comparison.
And yet the English were not the direct focus of the hairworking industry, as the French utilised the material and arguably enhanced its popularity worldwide.
In 1858, fashion magazine La Belle Assemblè referred to the French hairwork artist Limmonièr in a revolutionary light. La Belle Assemblè expands on the association with hairwork as a sentimental device and identifies it as a jewellery construction material in its own right, not simply "in which some beloved tress or precious curl is entwined".
La Belle Assemblè provides a very good advertising spiel for Limmonièr but also provides an insight into how the French perceived hairwork in 1858:
"(Old styles) gave the appearance of having been designed from a 'mortuary tablet'. Have we not all met ladies wearing as a brooch, by way of loving remembrance, a tomb between two willow trees formed of the hair of the individual from whom their crêpe was worn, and which from its very nature must be laid aside with it? But the new hair jewelry made by Limmonièr is an ornament for all times and places. He expands it into a broad ribbon as a bracelet and fastens it with a forget-me-not in turquoise and brilliants; weaves it into chains for the neck, the flacon, or the fan; makes it into a medallion, or leaves and flowers; and of these last the most beautiful specimens I have seen have been formed of the saintly white hair of age. This he converts into orange flowers, white roses, chrysanthemum and most charming of all, clusters of lily-of-the-valley."
By the latter half of the 19th century, hairwork was nearing a phase of unpopularity in France, though this article shows how hairwork was removed, or was attempted to be removed, from mourning and memorials. The article ridicules prior styles of hairwork, as being designed from a "mortuary tablet", and the stale nature of the depictions of hairwork. By 1858, many of these symbols were not being heavily used in mainstream mourning jewellery, being widely used in the late 18th century / early 19th century with the popularity of neo-classical art. However, the point is made, that hairwork is a beautiful material when combined with Limmonièr's artistry.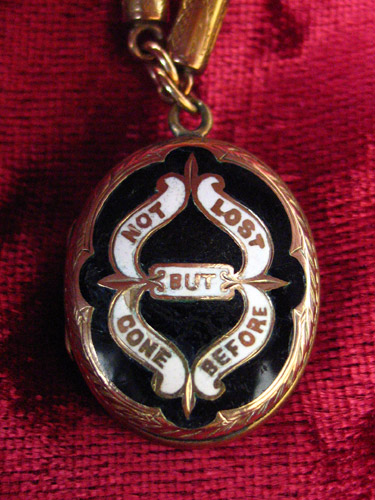 This locket and necklace combination, like the person whom it was created for, is not lost, but gone before. Understanding its elements is a way to lift the curtain on Victorian culture and society, as well as discovering the workings of 19th century fashion and industry.