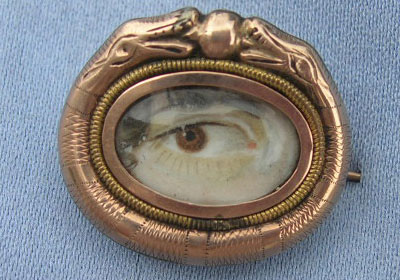 Eye miniatures are one of the more unusual trends to emerge during the late 18th and early 19th Centuries. Often placed in placed in pendants and brooches, each are highly collectable. This example from Barbara Robbins with the serpents coiled around (eternal love) can be viewed as a love token or mourning piece.
Mourning pieces are easier to identify either by the position of the eye or the setting. Black enameled tear drop settings (sometimes with pearls) are shaped like their namesake; in a teardrop.
Eye portraits are considered to have their genesis in the late 18th Century when the Prince of Wales (to become George IV) wanted to exchange a token of love with the Catholic widow (of Edward Weld who died 3 months into the marriage) Maria Fitzherbert. The court denounced the romance as unacceptable, though a court miniaturist developed the idea of painting the eye and the surrounding facial region as a way of keeping anonymity. The pair were married on December 15, 1785, but this was considered invalid by the Royal Marriages Act because it had not been approved by George III, but Fitzherbert's Catholic persuasion would have tainted any chance of approval. Maria's eye portrait was worn by George under his lapel in a locket as a memento of her love. This was the catalyst that began the popularity of lover's eyes. From its inception, the very nature of wearing the eye is a personal one and a statement of love by the wearer. Not having marks of identification, the wearer and the piece are intrinsically linked, rather than a jewellery item which can exist without the necessity of the wearer.
Use of materials developed along with the size of the settings of eye miniatures, as pieces were surrounded by precious stones and became larger due to altering fashion. A good reference for the evolving trend of the shape of early 19th century jewellery can be seen in the Rings section, where settings and the shape of the mementos changed quite dramatically from 1790-1830.
There have been a number of eye portrait forgeries due to their desirability and low production. Collectors should be cautious when purchasing a piece to ensure its authenticity.