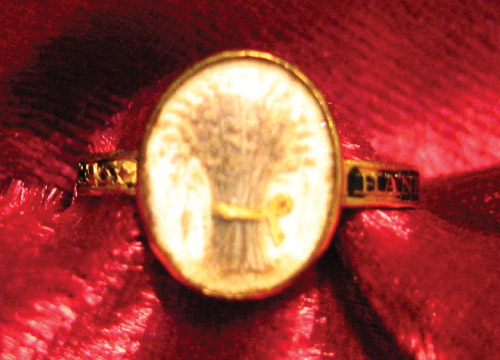 The wheat sheaf was one of the more common symbols used in late 18th century Neoclassical jewels, a symbol that was popular not only for its meaning, but as it was highly conducive for hairwork and sepia art. This particular piece shows the sheafs wrapped with gold, a statement of the divine harvest and also the aged. It is not uncommon for the collector to find these pieces dating from the 1770s-1780s in the oval shape, often placed on vellum or ivory.
There is a great identity to this ring, however, and that is the combination with the band, which has the dedicated written around it. Dating from April 1779, this ring for Sarah Piele, aged 24, doesn't show the markings of a ring for an unmarried woman (lacking white enamel), but a clear statement of ecclesiastical worship, as seen through the wheat undertones.
It is because of its religious nature that the wheat remained a popular motif in mourning jewels throughout the 19th century, particularly adapting well to enamel lockets and brooches as a larger, central motif.
Country: England
Year: April 1779
Dedication: Sarah Peile (age 24)