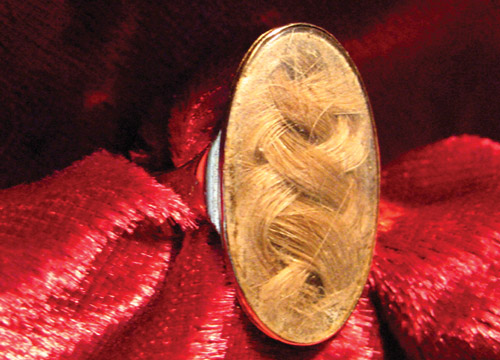 I find that the simplest of mourning jewels are the ones with the biggest tales to tell. There is much supposition we can project upon a sentimental jewel, especially when laced with symbolism, but when a ring is shown with such clear simplicity, then we can afford the same kinds of approach that we would a more elaborate jewel.
This ring's conceit is that it uses the most basic of hairwork twists to show what its purpose is. Before I launch into much more about the ring, I'll state that it was bought as part of the estate of an English family dating back to the 18th century, with much of the estate given provenance. However, there are many ways that a jewel can work its way into a family over time, from collectors to simply segueing through other families. That said, let's take a closer look.
The jewel is the rounded navette shape, which is more of an oval, typical of the 1790s. This is to give the sentiment more room for it to be displayed, in this case, we're not looking at the weeping woman or willow/urn, but just the hairwork weave. It's a very simple weave and there is no clear purpose of the ring being used for mourning or otherwise.
Without a clear dedication, the ring has been kept from the c.1790s as a keepsake through the family. Would this have been kept from a loved one as a token of affection and then passed down through the family, or would this ring have been used from a mourning purpose? One thing for certain is that the weave is simple and not intricately woven, which would be typical for the time. So, we have a ring that could be quickly produced and given at short notice, a ring that could have been a statement of love between two lovers or taken hastily post-mortem. Whichever the cause, there is little obvious planning.
The hair sits beneath domed crystal and doesn't display any obvious symbolic motif. Rather, the crystal pushes down upon the hair and doesn't have a firm seal to protect the hair from the elements.
So, a sentimental betrothal, a mourning ring or a token within the family? The ring is of quite a large size, though this is hardly the most direct way of purposing a jewel. Yet, the hair is so proudly displayed, it's the symbol itself for the ring. Regardless of the purpose, the intent was love and that's what the essential nature of the jewel is.
Country: England
Year: c. 1780-90
Dedication: Smith