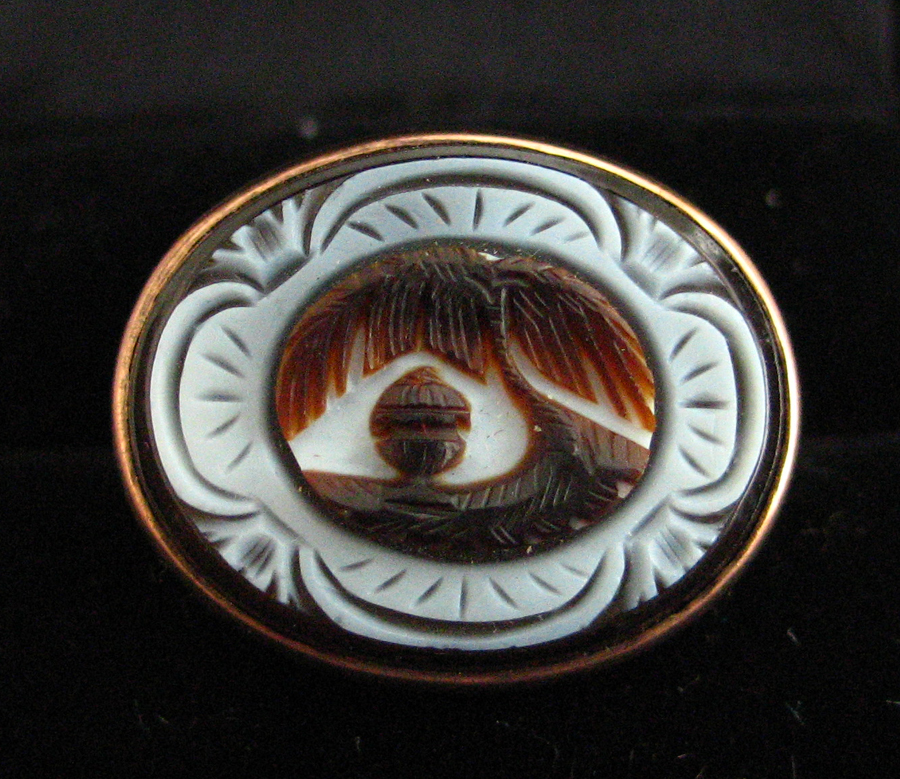 One of the more unusual and exciting things about collecting antique mourning jewels is to see how they have been interpreted. Even if there aren't any dedications in a jewel, there are many ways which a jewel can tell a story through its construction, as successive years lave their imprint in different ways.
Much has been written about jewels which are fakes and forgeries on Art of Mourning, and it's quite important to differentiate these from pieces which have been amended over time. Quite often, a jewel with a simplistic statement of love and affection can be re-appropriated by future wearers, as without a singular personal statement, the jewel tells its tale of love. In this case, we have a very large 'ring' which would more than likely have begun life as a brooch at an earlier time. The piece has been turned into a ring in about a generation from its inception. This is due to the onyx cameo having its origins in the late 18th century, but the conversion taking place around the mid-19th century.
This fits in well with the style of the time, as jewels were increasing in size by the 1850s and this style takes into account the larger fashion, but adopts the traditional urn/willow mourning depiction. What is more unusual is that this style (while timelessly attractive) does not fit in the popular emerging Rococo Revival style which was more popular and opulent in its designs. This ring is quite sleek and simple (which echoes of the first quarter 19th century), but much of this can be due to the size of the ring and the setting simply being a necessity in its context.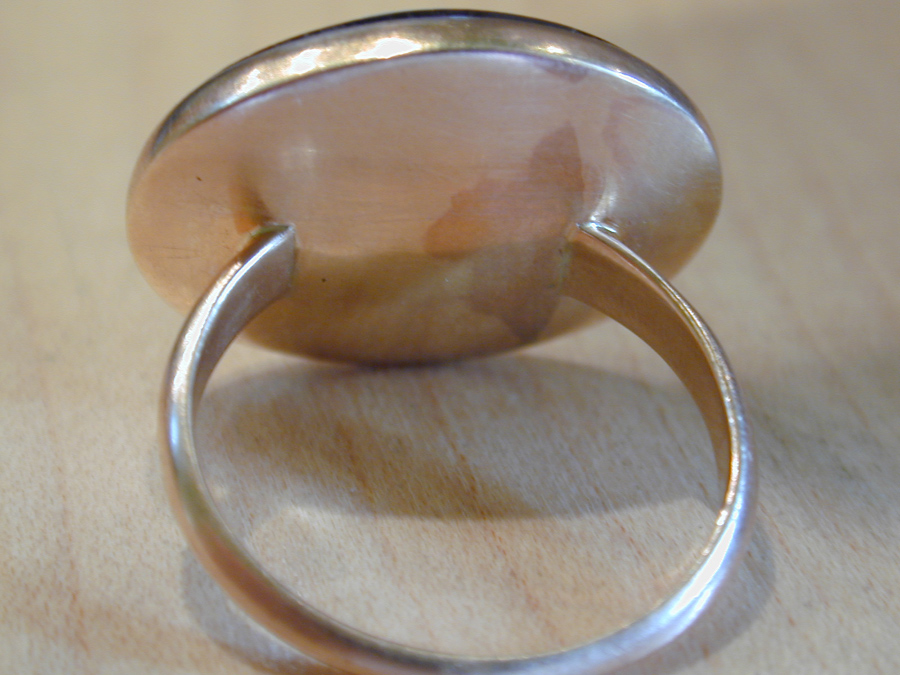 Fundamentally, the design of the cameo is the most important part of the ring. It's clear to see why it was re-appropriated for another wearer, and no doubt has been since its inception. There isn't a singular dedication to one person which would cause it to be a keepsake that couldn't be worn for another – much like lockets bearing the inscription 'In Memory Of', which are still popular today, this ring could be worn today or in another one hundred years, as long as the willow and the urn retain their symbolic understanding.
That is why we cannot look at the ring and notice its obvious inconsistencies and make the assumption that it's a forgery. It's simply the setting that has changed, but the cameo is still as beautiful today as the day it was made.