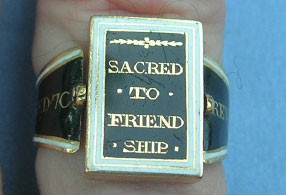 With this remarkable ring, we have an adoption of old styles moving into the beginning of the 19th century. This style shows quite a high level of experimentation and personalisation, as it reflects a time of fluidity in jewellery design that had moved on from the standard oval/navette shapes of the late 18th century.
Before we start to look into the ring for its construction and materials, we must think about the social context of when it was created. The ring was designed at a time where the Neoclassical movement had lasted since c.1765, around forty years, a movement of romanticism and humanism that had engrained upon an entire generation growing up where this was mainstream fashion. As we have seen from the change of Baroque to Rococo, these movements tend to shape the culture and art of the society in which they were permeated. While the Neoclassical movement suffered greatly from the Gothic Revival movement, where there was a genuine swing back to the traditions and simplicity of the middle ages, the Neoclassical period of the early 19th century saw jewels change their design to accommodate much simpler shape and styles. There were the Napoleonic Wars, following on from the French Revolution, American independence and a greater push towards colonialism for Europe that saw not only social transitioning which would not have been previously possible, but an influx of other cultures and imported materials through trade. What shows is that this ring was constructed at a time of great social mobility and change.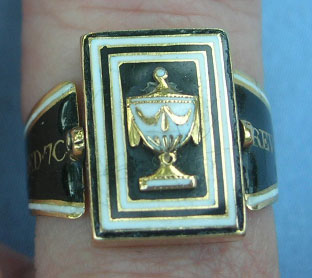 With this change, styles and the influx of new ideas bled through to jewellery design, such as this piece. We have an adaptation of the classic black enamel mourning band and white enamel trim around the edge. This is a traditional style overlaid across the 'cigar band' shape which was growing in popularity (where the shoulders taper down the band) and it cleverly inserts the swivel memento in place of the bezel.
Swivels for the bezel were always the exception to the popular rule. They were not a new invention, but they always appear during a time of change before standardisation in design creates a more simple and popular style for mainstream jewellery.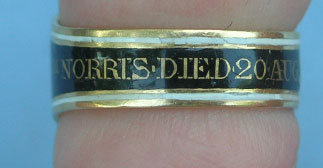 Upon one side, we have the urn symbol and upon the other, we have the dedication, which both work in conjunction with the name and date around the band. Two things are unique here, one is that the swivel reveals a dual mourning purpose, without the placement of hairwork or a reversed stone (often an intaglio for family crest) and that the ring has the popular Neoclassical urn and the WM Norris was a reverend. There's no overt religious symbolism involved with the ring, just the simple urn for mortality.
A superb ring that heralds in the change of the times!
Further Reading:
> Discovering a 19th Century Swivel Ring
> An 1818 Ring That Will Keep Thy Dear Remains
Courtesy: Barbara Robbins
Year: 20 August 1798
Dedication: "Sacred to Friendship" / "Revd WM Norris Died 20 Aug 1798 Aged 70