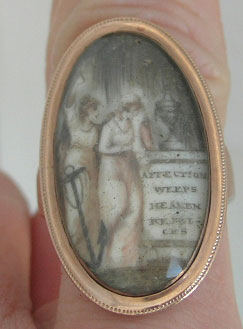 'Affection weeps, heaven rejoices' announces this watercolour on ivory ring and from the unique symbolism to the marvellously crafted mourning depiction, the ring certainly tells us a lot about its wearer.
This is one piece which depicts the two women in mourning, with this, we must first note the costume of the ladies. On the right, we have the mourning women, dressed in white with her veil, clutching a handkerchief to her face in a position of wiping the tears from her eyes. On the left, we have the other lady with her right arm pointing to the heavens via the index finger. This figure is dressed in the more fashionable style for the times, with her arms exposed (note the mourner does not) and the cloak, wearing the wreath. Her position shows a movement towards the mourner, almost consoling her that her loved one has gone to heaven.
In front of this female is the anchor, representing hope. It would not be difficult to make the connection between this female and Christianity. This symbolism takes up nearly half of the ring itself and balances he mortality on the right. Clearly, we have a juxtaposition between the mortal remains and the heavenly spirit.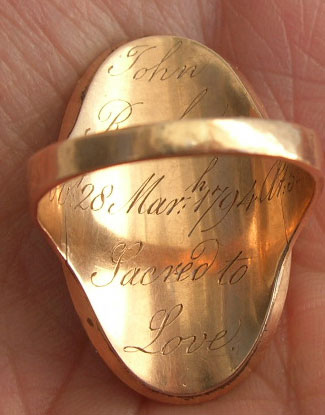 To the far right is the urn and the plinth with its inscription referencing the 'affection' and 'weeping' of the mourner (which transcends the person and becomes an announcement of those who connected and felt 'affection' to this person being mourned) as well as the heavens rejoicing to have accepted this soul.
Previously, I've spoken about the humanistic movement that the Neoclassical period and the Romantic era bought with it, but the allegory towards ecclesiastical praise was not lost, just adapted for the popular art styles of the time.
Finally, the piece is flanked across the border with the sepia weeping willow, which ties the sentiment together as a very personal and unique ring, which almost feels as if it belongs on a large canvas, rather than on a finger.
Courtesy: Barbara Robbins
Country: England
Year: 1794
Dedication: John Rosbe, Ob 28th March, 1794 AE 54. Sacred to Love / Affection Weeps, Heaven Rejoices