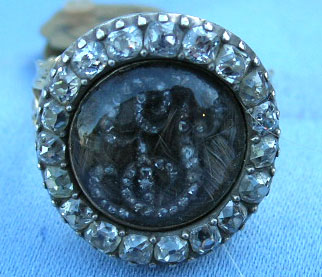 Mourning rings, as discussed in other articles, have a tremendous variation in quality and style. Much of this is to do with the social necessity to present oneself in the paradigm of the three stages of mourning, otherwise it can be due to physical location (as different cultures have different fashion influences and religious beliefs) and wealth.
With this particular ring, we have a piece that shares many aspects of the 1780s, a period when the oval shape (which would re-enter the mainstream style from 1800) was just as popular as the more elongated navette style.
Dating from c.1792, the ring is as impressive today as the day it was made. It has the wide shoulders forming into the band, which accommodates the oval style and the focus of the ring is in the diamonds themselves. These gems show the value of the ring and the importance to which the wealth of the wearer and the affection of the wearer was delivered to the person to whom it was dedicated.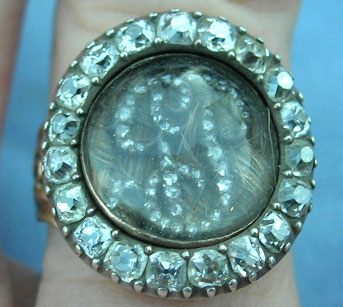 There is an open-weave to the hairwork under the initials (GP), set in diamonds as well, complementing the border of the ring and set in three-dimensional relief.
Socially, we have to consider when this ring was made. The date of the ring is 1792, and due to its construction, we have to honour that it may have been very close to the date. With the balancing of the diamonds to the initials, there's not much room for standardisation in design, but a continual flow of design that merges all the aspects of the piece. For its time, the ring has the same impact then as it has today; the diamond has always been the faceted gem of desire that reflects the light and captures the eye as it is worn. With its condition, it would be safe to assume this ring had not seen much wear in its existence, but as mourning rings were souvenirs of a person's life, this is not to be unexpected.
Further Reading
> Mourning Ring Dedicated to S King, Jan 4 1796
> Eternity Knot Ring Shows Changing Styles in the 18thC
> Embroidered Hair on Silk/Material Ring, 1763
> Moss Agate Locket Ring, 1774
Courtesy: Barbara Robbins
Year: 1792
Dedication: George Palmer, Ob 1st August, 179(2) / AE 54