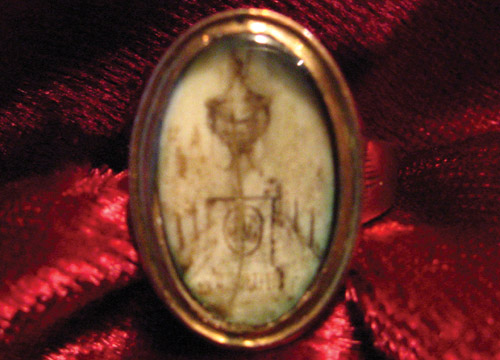 Much has been written about sepia on Art of Mourning, but there was another (and even as popular) style of mourning ring on ivory that was used. This particular painting style was also popular in miniatures and it was watercolour.
This particular ring suffers from much elemental damage. One thing that a person who collects jewellery must know is that ivory if a very fragile material that reacts to its surroundings. Change in temperature from dry to humid heat can cause it to swell and crack. Also, one must know that many auction houses and sellers polish pieces before the sale to add to their luminescence, hence this can tarnish metal and create the blue element seen on this ring.
But, a collector can look past these discrepancies and see the piece that was. This ring had the urn atop the plinth and flanked by the cypress.
Once can take away from this ring that it was an individual piece; not one that was highly crafted, yet it had knowledge of perspective and was unique for its time. Hardly naive, this ring suffered from the hands it was passed down with, otherwise being a very individual ring.
Country: England
Year: 29 December 1788
Dedication: Lackle (age 32)