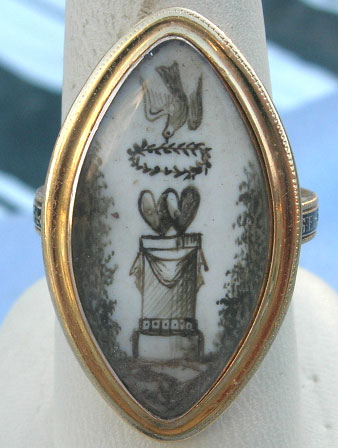 Duality is the perfect way to describe this ring, in its symbolism, style and dedication. Dedicated to two people and showing quite loving symbolism, of the dove (purity, devotion), crown / wreath (redemption), hearts (togetherness / love) and unbroken column (eternity). Collected, these symbols portray quite a beautiful sentiment from the wearer, and considering that this piece was dedicated for two people, the bond is so much stronger. There are assumptions that could be drawn out from this symbolism, but the true sentiment is with the person who commissioned it.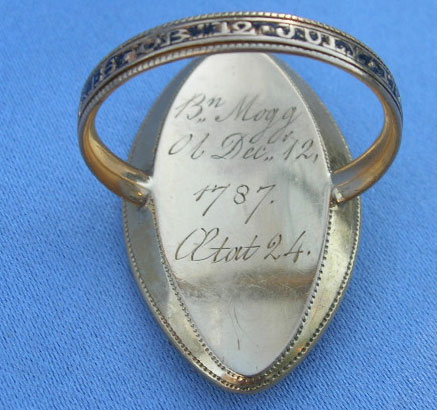 Its construction is also common of two different styles, with an enamelled band and the navette style blended together. The work to the gold even on the reverse shows a good deal of money was invested in this particular piece and the quality of the sepia is extraordinary. Note the similarities of the symbolism to the 'In Spite of Envy' bracelet in the Bracelets section.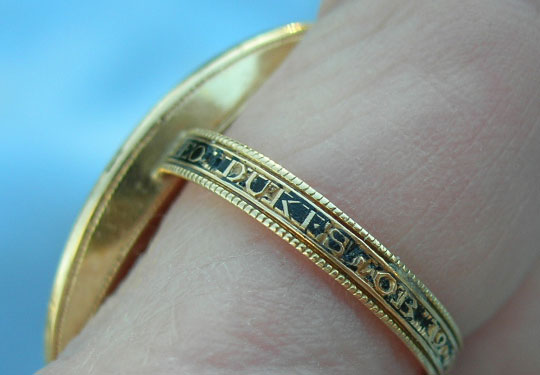 Courtesy: Barbara Robbins
Year: 1786
Dedication: Geo Dukes, ob 12 July, 1786 AE 45. / Bn Mogg, ob 12 December, 1787, AE 24.