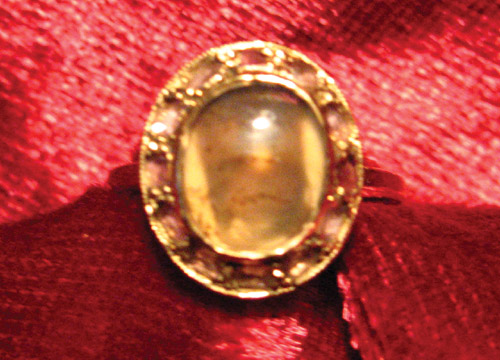 This ring is an interesting study on the re-appropriation of jewellery and its sentiments.
Originally, this ring was found without several of its amethysts, yet the moss agate was still intact. It clearly shows the style of the 1780s, but over time, it had faded into obscurity and had much alteration.
The ring had its amethysts replaced and the hairwork twist placed underneath the moss agate, which can just be seen as the dark spot in the photo.
Much of this brings to mind the question; if Neoclassical jewellery is so wearable and fashionable today, should a piece in poor condition be resurrected or should a newer piece be worn?
On one hand, there are pieces that can suffer due to excessive wear (such as enamelled pieces) and when broken, cannot be bought back to their original condition. Then there is the consideration that these jewels were created for a certain person, and even though they have been passed down through the ages and the person forgotten, the sentiment is still there.
So, what is your opinion about wearing jewels that may have been created for the specific purpose of love between two people? Is it good to let the jewel be worn and seen, or should they be conserved? What makes a mourning and sentimental jewel different from others?