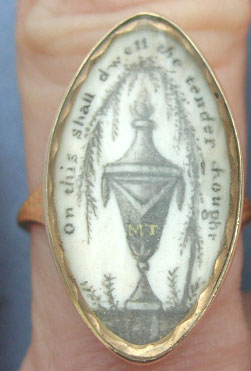 Much of the style of this particular ring is very reminiscent of the Neoclassical pieces c.1780 in France and across the continent. It is the depiction of the urn that makes it so unique, with the narrow shape and fine detail to the shading of the urn itself. Notice the willow entering the frame from the right and not the left; this is not the standard mourning depiction, but something truly unique.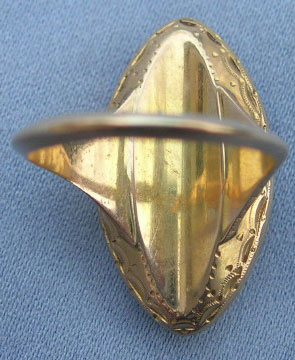 The navette shape is much more narrow than contemporary pieces which had more of a fuller body and not so narrow.
Another fascinating point is the sentiment and the way it is written. From a design points of view, this use of the font shows much individualisation to its style; there's no standard font that is copied, it becomes more of a hand-written sentiment. You can see this where 'dwell' and 'the' curve at the top of the ring and the serifs to the word 'thought'. Much thought has been put into this sentiment as to its design, as the text balances, while the actual wording is quite heavy and would not easily balance around this particular navette shape.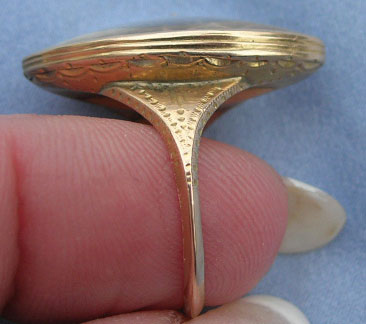 The wording itself is important/ 'On this shall dewell the tender thought'. Much consideration would have gone into this dedication; it's not standardised and it works within the symbolism. 'This' may refer to the urn and the allusion to eternity in the symbolism, so for the sentiment to forever keep the tender thought in the jewel and of the person, this ring stands the test of time as a monument to loving memory.
Where this ring is standardised is in the shoulders and under the bezel. The navette shape during the mid 1780s utilised a standard design pattern around the gold-work, from the previously smooth underside of the 1770s. The motif refers to the look of a ribbon, or banner, in its continuous style; so note that engraving when you're looking for Neoclassical jewels.
Courtesy: Barbara Robbins
Country: England
Year: c. 1780-90
Dedication: MT / On This Shall Dwell the tender thought