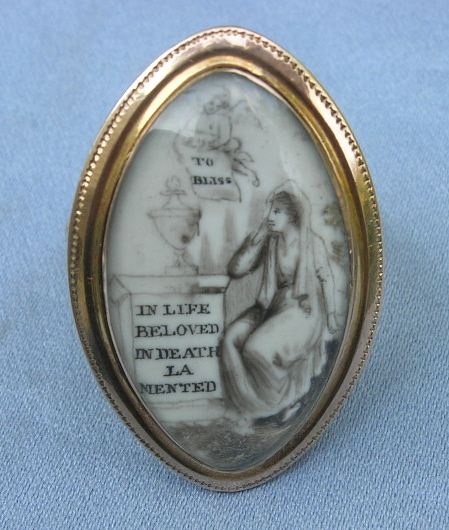 In the similar way that the "Sacred Will I Keep They Dear Remains" piece was personalised with the sentiment written on the plinth, this piece shares its trait. Notice the awkwardness in the lettering of the piece in the word "lamented" – here it wraps across two lines "la/mented". This indeed indicates a form of personalisation over "commissioning" a piece, which would utilise the wording within the design itself.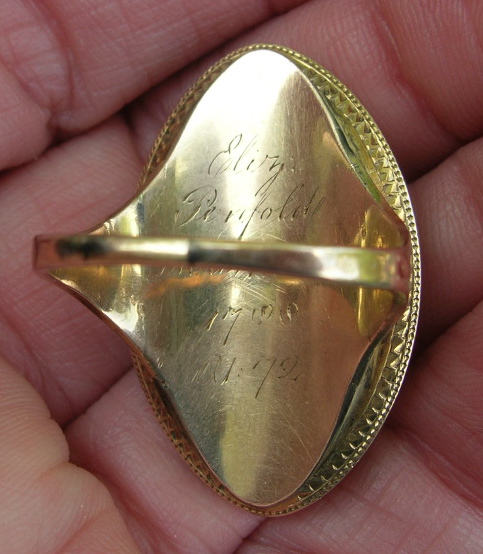 It's very important to look at the shank and the bezel of the ring to note the triangular design that splays over the shoulders of the ring. There are many similarities to this ring from the mid-1780s on Art of Mourning to show a standardisation of this design. As a design motif, you can look to the 1770s as being more streamlined and less detailed than the 1780s, which embellished a lot of design motifs across Neoclassical styles, particularly in England and France.
In the actual miniature itself, there's a sense of naivety to the art, seen in the urn and the facial features of the female. Her dress, especially in the dress and bonnet are detailed, with attention paid to the creases of the dress and her pose is very standardised for the time. However, the face is simply portrayed. Note the colour differentiation between the shading to her dress, face and the text. It seems to be darker and it would not be extraordinary to say that these features were accentuated after the piece was bought (or even doctored at a later time).
The cherub flying to the heavens is, once again, the allusion towards the ecclesiastical heaven, but not overtly stated. Moving "To Bliss" is a very different sentiment than that of "Sacred Will I Keep They Dear Remains", yet if the remains go to the heavens or return to the earth, the urn still remains the clear mourning statement of the body in death. It should be noted that in the background, we have the cypress tress pointing towards the heavens.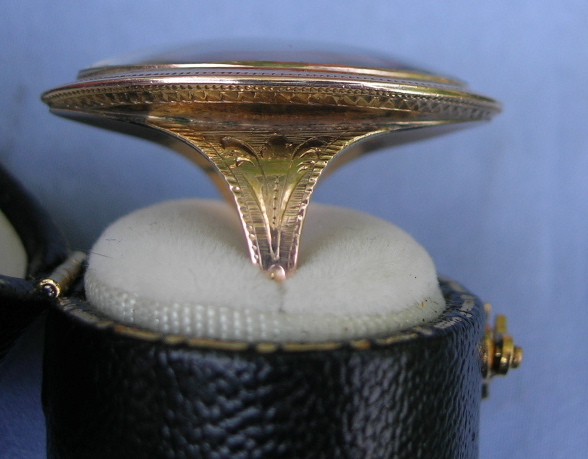 Courtesy: Barbara Robbins
Year: Nov 3 1788 AE 72
Dedication: To Bliss" / "In life Beloved, In Death Lamented