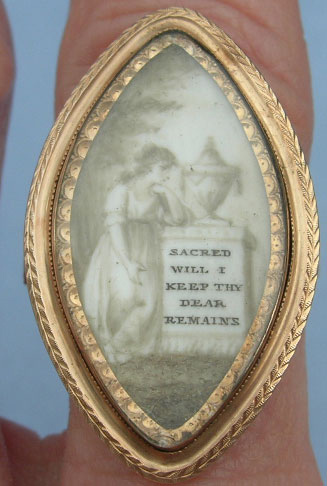 "Sacred Will I Keep They Dear Remains" is a poignant statement that relates directly to the nature of the person in mourning during the Neoclassical era. Note how the word 'I' is used, the remains are a physical object that returns to the earth, rather than transcend into heaven and the remains are 'dear' – clearly the human factor is the primary focus for the mourner. While heavens and certainly the Christian value of 'God' is placed in the allegory in much symbolism, it remains an allegory. Unless the symbolism is tailored and custom to the piece, depicting the over religious sentiment was not as popular as returning to the Neoclassical values that pushed the humanist movement forward.
I open with the statement itself, because the sentiment is such a common one in Neoclassical jewellery, or at least variations of it. It's important to look at the statement a piece makes to analyse the quality, age (within the factors of 1760-1800) and then look at the definition of the sepia painting itself.
towards the suggestion that the piece was sold with a standardised design, then tailored by the family member with that particular sentiment. This is a very important thing to note, as it brings the sentiment closer to the mourner and the family that bought it.
The female mourner leans on her left arm, looking wistfully at the urn with the "dear remains" and points to the earth. Note that, as the earth is representing the final resting place and not the heavens.
Along the navette border, we have the wheat sheaf and within, surrounding the miniature, we have a design that is very typical of the mid-1780s. Always look to these design flourishes to identify the year of a piece if there's no inscription.
There's lots to appreciate about the quality of this ring and its sentiment. If you have a few good moments, take a look at the larger images to appreciate and learn.
Courtesy: Barbara Robbins
Country: England
Year: c. 1786
Dedication: Cath Motley, ob 11 of Dec, 1786, AE 69 / Sacred Will I Keep Thy Dear Remains