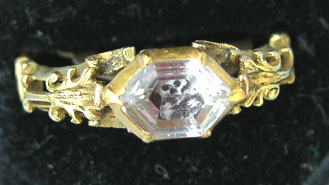 When people ask what the Rococo influence on jewellery was during the mid 18th century, this is the ring that your mind should depict. If ever a jewel had taken so much from a mainstream fashion and art movement, it is this particular piece; it represents the height of its time, with its ribbon/scroll motif surrounding the band and its shoulders made of the acanthus. On the bezel, we have the faceted crystal covering a Memento Mori skull, essentially taking all the elements of the time that were popular and instilling them in the ring.

Why is this such a precise example of its time? Firstly, the quality of the ring. The ribbon/scroll motif is accentuated in a way that is so embellished that it's undulating wave in the gold work kicks out and tapers in, this is a detail which other pieces of the time rarely do. The Rococo movement began as a reaction to the Baroque movement, in that its style was more free-flowing and less structured, utilising organic themes. Here is where the ring becomes the definition of Rococo; it is free flowing and organic and it defies order with embracing these themes.

Yet, there is the Memento Mori symbolism, which is structure and order in its methodology. Considering this is a usage of a style that had existed in popular lexicon for the previous two-hundred years, it's clearly the symbolic element that adds the gravity of the sentiment to the piece. It was for mourning and the floral/natural elements to the ring may lend it to being attractive, but it's never arbitrary in its intent. The black enamel adds to this depth of intent, the ring was created for the person, as it was specifically created for W Harrison in 1761.
1761 is the final and most important thing to consider when viewing this ring, this is because by 1765, there was the emerging Neoclassical movement. Hence, the ring is constructed at the height of its times and proudly shows it.
Courtesy: Barbara Robbins
Country: England
Year: c. 1761
Dedication: W Harrison OB 2nd Sept 1761 AE 69