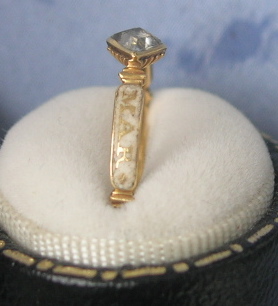 The 1730s saw a transition from the Baroque to a formal style and then into the Rococo. This is not unlike what happened a century later, when the Neoclassical period transitioned into the Gothic Revival period – there was a style change that adopted simple, geometric shapes. Ovals and straight lines replaced the Neoclassical navette and wider shank/bands, then as soon as it came about, the Gothic Revival period dominated that with its heavy, embellished gold work and heavy reliance on black enamel and typography.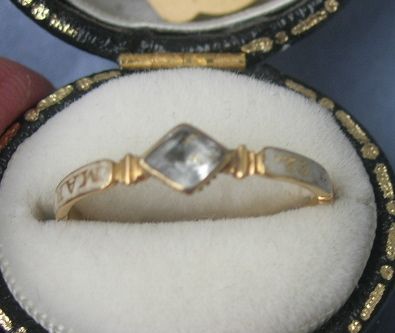 Yet, we're in the 1730s with this piece and it reflects its time perfectly. Where earlier pieces were either highly elaborate in their designs or still trying to find one style of interpretation, this is a straight band with notches breaking up the enamel and the dedication. Here, we can see the evolution into the Rococo ribbon/twist bands that would become popular next.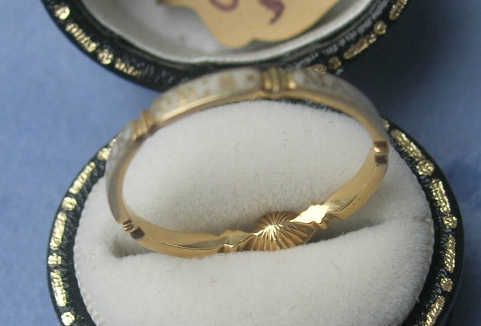 Underneath, we have the rosette shape to the bezel; a common style across Europe, but here, rather than accommodating a round style, it sits a square diamond-shaped paste. When looking at pieces of the late 17th and early 18th century, notice the shape to the stone or cystal. If the facets are sharper and a squarer shape is used, this often dates to c.1700-1730, whereas earlier jewels used the crystal, but were more commonly rounded. This isn't a specific rule, as the crystal was faceted for its ability to shine like a diamond, yet the squarer styles often come later.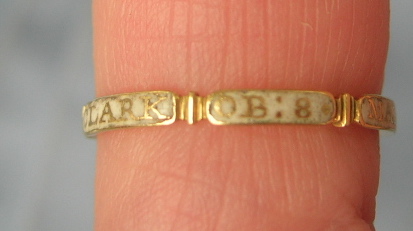 Courtesy: Barbara Robbins
Country: England
Dedication: Mar (y) Clark ob 8 May 1730 AE 22
Year: 1730
Further Reading
> J Scotts, 1699 Mourning Ring
> The Evolving Band in 19th Century Mourning Rings
> A Grand Statement in an Early Pendant
> Memento Mori in Jewellery: Anachronistic 1780s White Enamel Ring Where Memento Mori Meets Neoclassicism
> c.1680 Memento Mori Skeleton Ring
> Skeletal Rings, Memento Mori and the Evolution of the Symbol
> Sarah Jervis White Enamel and Sepia Mourning Ring, 1777