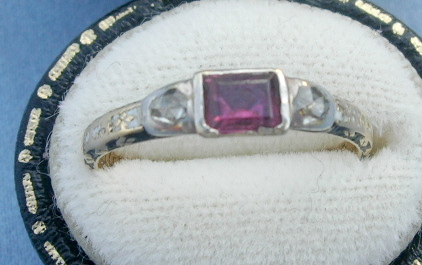 By the end of the 18th century, there began a standardisation of styles in memorial jewellery that drew itself from the rising popularity and social necessity of the jewels during stages of mourning. From this grew the mourning industry, an industry that fed itself through this new style of fashion. With cultures that began to have greater social mobility and access to wealth (as well as the chance to actually create wealth), requesting a portion of money be dedicated to the creating of mourning jewels in a will was not uncommon.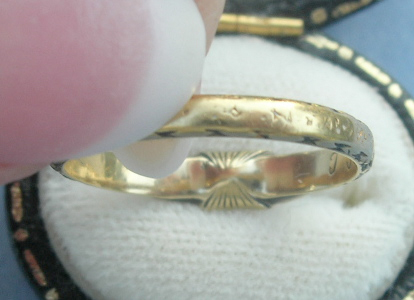 Stylistically, certain forms and shapes in jewellery are seen to be similar and common. The style of the 'band' accommodated memorialisation, as the name or dedication could be etched into the band itself, facilitate different colours of enamel to denote the symbolism for whom was being mourned and it became an adaptable style, regardless of being produced in the fashion of the Baroque or Rococo. This particular ring is straight in its band, with the shoulders leading into the rosette bezel. This was a very formal style for rings of the time and quite typical from the 1680-1720 period. This would adapt as Rococo became more popular and show the ribbon/twist motif to the band itself.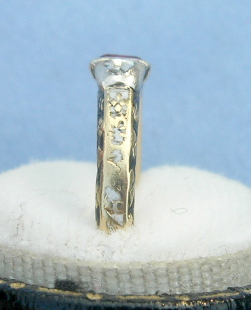 The ruby flanked with diamonds on the shoulders is not uncommon, but when combined with the white enamel, we can see that this particular ring was very special for its time. Notice the square cut to the ruby, it's close to the sharper edges of the crystal cut pieces of the time. The ring would have been worn for someone of wealth, as it is as decorative as it is sensitive to its mourning heritage – the white enamel uses this to high effect. It was created for J Scotts who passed on at age 20, so we can assume the unmarried/virginal status of the dedication from this.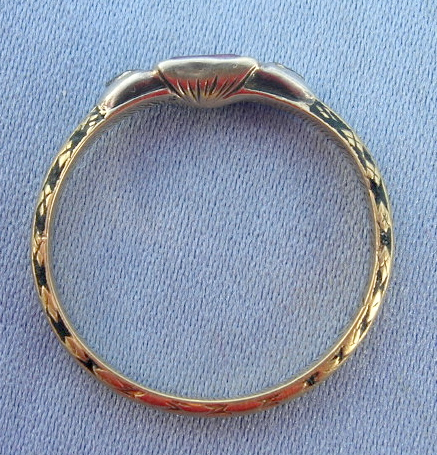 Follow the articles below for similar pieces from the time and learn about the evolution of the style.
Courtesy: Barbara Robbins
Country: England
Year: Ob 9 Jan 1699 AE 20
Dedication: J Scotts
Further Reading:
> Textiles Tuesday: 17th Century, Part 1
> Textiles Tuesday: 17th Century, Part 2
> Eternity in a Twist: The Hon Alice Nugent in a 1730 Mourning Locket and the Hairwork Eternity
> Skull and Hairwork in a 1697 Stuart Crystal Ribbon Slide
> c.1680 Memento Mori Skeleton Ring
> The Eternity Twist, Hairwork, Crystal and the Early 18th Century / Ring
> Skull and Hairwork in a 1697 Stuart Crystal Ribbon Slide
> Queen Mary II Memento Mori Slide
> 17th Century Crystal Memento Mori Ring: A Study
> Spotlight On: Sir William Ellis Mourning Ring
> Spotlight On: Charles II Pendant