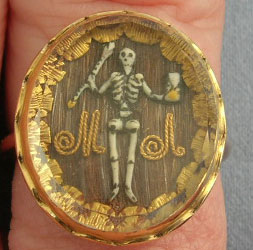 Formerly a ribbon slide, this Stuart crystal converted ring is still a perfect version of its form. The skeleton with its memento mori motifs (life cut short / passage of time), the gold wire cipher and the hair combined with the gold surround make it a piece that has survived in wonderful condition.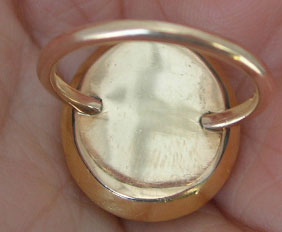 Enamelled skulls on rings and Stuart crystals with gold wire cipher, hair and often silk underneath grew in use frequently during the latter 17th Century. As the 18th Century approached, the style would gradually change, with the larger crystal bezels becoming smaller and more rectangular and the greater use of hair underneath. Skulls, skeletons and the memento mori symbolism started to recede and become smaller (when used) as well.
Read the articles below for further study on memento mori and its impact on society.
Courtesy: Barbara Robbins
Country: England
Year: c. 1680-1700
Further Reading:
> Skulls, Rings, the 19th Century… What We Must Ask
> How Society Entered Mourning: c.1680-1700 Memento Mori Mourning Ring
> Memento Mori in Jewellery: Anachronistic 1780s White Enamel Ring Where Memento Mori Meets Neoclassicism
> Spotlight On: Ribbon Slides
> Spooky! Skeletal Rings, Memento Mori and the Evolution of the Symbol
> Symbolism Sunday, The Trumpet
> 17th Century Crystal Memento Mori Ring: A Study
> Defining Memento Mori Though Presentation: 18th Century Skull on Pendant