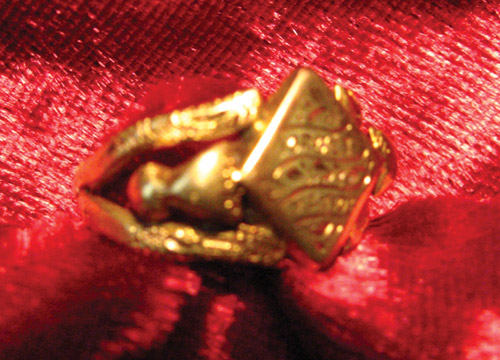 From Melbourne Australia and dating to around 1880, this ring benefited from the booming gold rush, as can be felt by its tremendous gold weight. Inscribed upon the top shield is 'Forget Me Not' and heavy etching curls around the shank.
Much of the jewellery featured on Art of Mourning has its origins in Britain and radiates outwards through its colonies or trade, particularly in the 19th century. Many of the styles made popular in England became popular in America, indeed, much of the jewellery was standardised through mass production and catalogues of the time.
Conflicting sentimental and memorial styles most often had their origins in the European continent, with France being the main competitor for mainstream style. The influences of French styles are mostly seen through German and Eastern European mainstream jewellery designs (though not singularly, there were independent styles relevant to a culture or society). However, with this 19th century standardisation, one must consider the fashions that were popular, the coverage of the society that perpetuates its style and how these styles were relevant to social standing and necessity.
Mourning jewellery is one of the simpler forms of jewellery to identify, due to its social requirements (three stages of mourning relate to colour, style, use of hairwork, etc) and the obviously memorial dedication in each piece. When it comes to sentimental jewels, the rules are a lot more flexible and the styles are more arbitrary. Technically, if a jewel is given as a gift, then its sentimental is intrinsic to the piece. However, the 19th century produced many styles for standardisation of jewellery symbolism to denote the purpose of a piece. Hairwork, being the most common and the outward dedication of sentimental symbolism being another. This piece, having its origins stemming from the Victorian gold rush, is a token of love with the overt 'forget me not' written in a shield on top. Sentimental, simple, loving and proudly worn. It shows that styles can be unique to their area, this being Australian, with its heavier weight and bolder style, but retaining the design concept of its English roots.