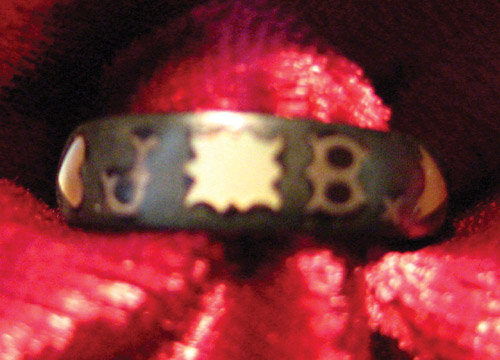 Inlaid with mother of pearl, this ring with the initials JB is another odd piece for a time when much of the popular jewellery was standardised in design (late 19th century). Its size and brittle nature make it unwearable, but certainly a statement of love between a couple.
Vulcanite usage in in jewellery is much more common with bracelets, necklaces and brooches – larger items that could be moulded and reproduced in a heavier style. To find a ring with such small embellishments (particularly with a material that was not so resilient when worn around the hands) goes against the form of much vulcanite jewellery. Having vulcanite inlaid, such as this ring, is much more typical of peripheral accessories of the latter 19th century, as it can be found in pipes, compacts and hair accessories. Bracelets and lockets did mimic this style, but the larger cameo embellishments were much more popular.
With its subtle usage of symbolism, the ring suggests that it was a custom piece, with the inlay dedicated to an individual and working well within the context of the heart symbolism. Also of note is that the ring is not something adjustable, as a metal would be, but fixed to its size. The heart symbolism suggests a love token of sentimentality at a time when vulcanite and mother of pearl were fashionable.
A History of Jet
> Bakelite
> Vulcanite
> Bog Oak
> French Jet and Vauxhall Glass
> Symbolism Sunday, The Angel