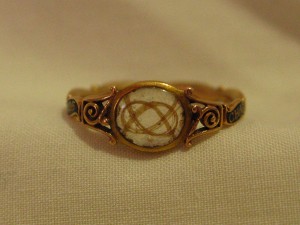 Twisting hairwork into the eternity knot was quite a popular motif in the first half of the 18th century, one can postulate on this for various reasons.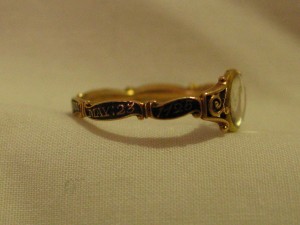 Let's look to the art of the time. To estimate the age of a piece, we must look to the shank and band design. With this, we have the Rococo ribbon motif, incredibly popular during the 1700-1760 period (though growing in elaboration as the century wore on). This motif was used as a full band or forming the shoulders and the bezel of the ring to present a hair memento, Stuart Crystal or gem. Do note that many pieces with generic Rococo ribbon motifs and gems are often later additions of the gem itself.
Back to the hairwork and we can see that the entwined eternity twist of the hairwork placed between the crystal accommodates the ribbon motif, working with the undulations to form a connected ring of ribbon-twisted eternity, as well as the loved one's hair itself. Quite a statement for its time and quite a piece to define what love symbolism was popular.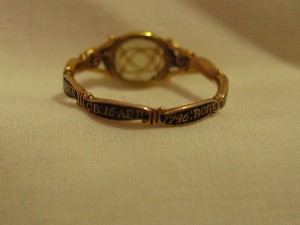 Also of note is that the hairworking industry was growing rapidly during this time. Hair woven under crystal mementos and worn as bracelets were swiftly becoming popular, but it hadn't reached its own industry until the 19th century. For early 18th century hairworking, this eternity knot shows a distinct level of care and intricacy for its time.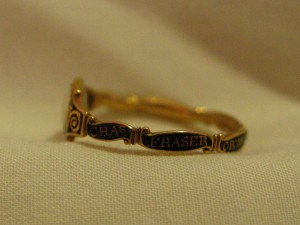 Look to other ribbon pieces from the era on Art of Mourning, particularly pendants, to carry this motif through.
Dedication: Chas Fraser / OB: 16 April 1746 / Born: May 23/ 1725 Mourning Ring
Related Articles